Tight Lines for Troops
May 17, 2019

-

May 18, 2019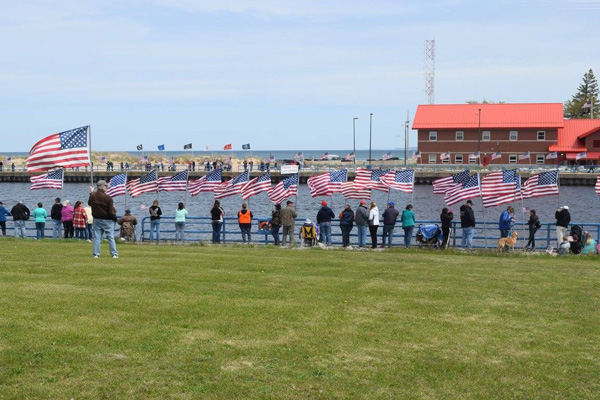 Tight Lines for Troops provides veterans with a day of fun camaraderie, and thanks them for their outstanding service to our country. Veterans pay no charter fees, entry fees or banquet fees! Priority is given to WWII and Korean War Veterans, POW's and Purple Heart Recipients.
The public is invited to bring their flags to the Manistee River walk on Saturday, May 18th at noon to be a part of the area's biggest and best salute to these American heroes.  Rolling Thunder Michigan Chapter #1 will once again generously supply thousands of loaner flags for fans to wave as the fleet returns to port.  Downtown merchants have prepared a day-long celebration on River Street to expand this year's events.
This year's event is hosted by City of Manistee, Little River Casino Resort, Seng's Marina and Charterboats from Manistee and Northern Michigan.   Additionally, local Veterans groups – United Veterans Council, Little River Band of Ottawa Indians Warrior Society, our local National Guard and U.S. Coast Guard, Rolling Thunder Michigan Chapter #1, Manistee County Visitors Bureau, the Manistee Area Chamber of Commerce, Downtown merchants and a host of volunteers from across the state contribute to the event.
Friday, May 17 – 5:00pm
Mandatory Registration Dinner: for captains and all Tight Lines participants of Boat and Pier/Shore Division. Each participant MUST register at this time to be assigned to a boat. First Street Boat Launch Area, Manistee, Michigan
Saturday, May 18
Tight Lines For Troops Tournament Begins Big Lake Division: 4 participants per team – weigh your biggest fish. Pier/Shore Division: Individual entry – weigh your biggest fish. (Participants in both divisions are eligible for all activities and prizes)
5:30 AM: Ready to Board – Participants must be ready to board boats by 5:30 am at Manistee Boat Launch Area, 1st Street – Downtown, Manistee, MI.
6:30 AM: Shotgun start at the Manistee Harbor Pier heads. Boat participants must be ready to board boats by 5:30 am at Manistee Boat Launch Area, 1st Street – Downtown Manistee, MI. Pier/Shore fishermen in position at 6:30 am. Box lunch provided for each participant.
12:30 PM: Reels In – Boats gather outside the Pier Heads; Pier/Shore fishermen must pull lines. Proceed to Manistee City Marina
Flag Welcome begins – Downtown Riverwalk
1:00 PM: Weigh-in begins at First Street Boat Launch area, Manistee, MI. Dinner and Awards immediately following.
5:00 PM: Raffle Prize Drawing at Little River Casino Resort. RAFFLE / Win a Polaris ATV
In addition to the Tight Lines For Troops 10th Annual Fishing Tournament, there are a couple of other events being hosted this weekend.
A Pre-Fishing Golf Tournament at the Manistee Golf and Country Club sponsored by Farmers Insurance of Manistee. Friday, 9AM. Veterans play free, and friends and family can join for $15 (cart included). Scroll down to see the flyer for more information.
Live From The Front: Byline Ernie Pyle. This exciting one-man drama celebrates the inner-struggle of beloved World War II correspondent Ernie Pyle, his shy love of people, his tenderness, and his salty Indiana-farmer humor. Saturday at the Ramsdell. FREE for Veterans | $8 Adults | $5 Veteran Family Members. Sponsored by Tight Lines For Troops. Scroll down for more information. Click here for tickets.
Additional Information Here: Tight Lines For Troops
Related Events