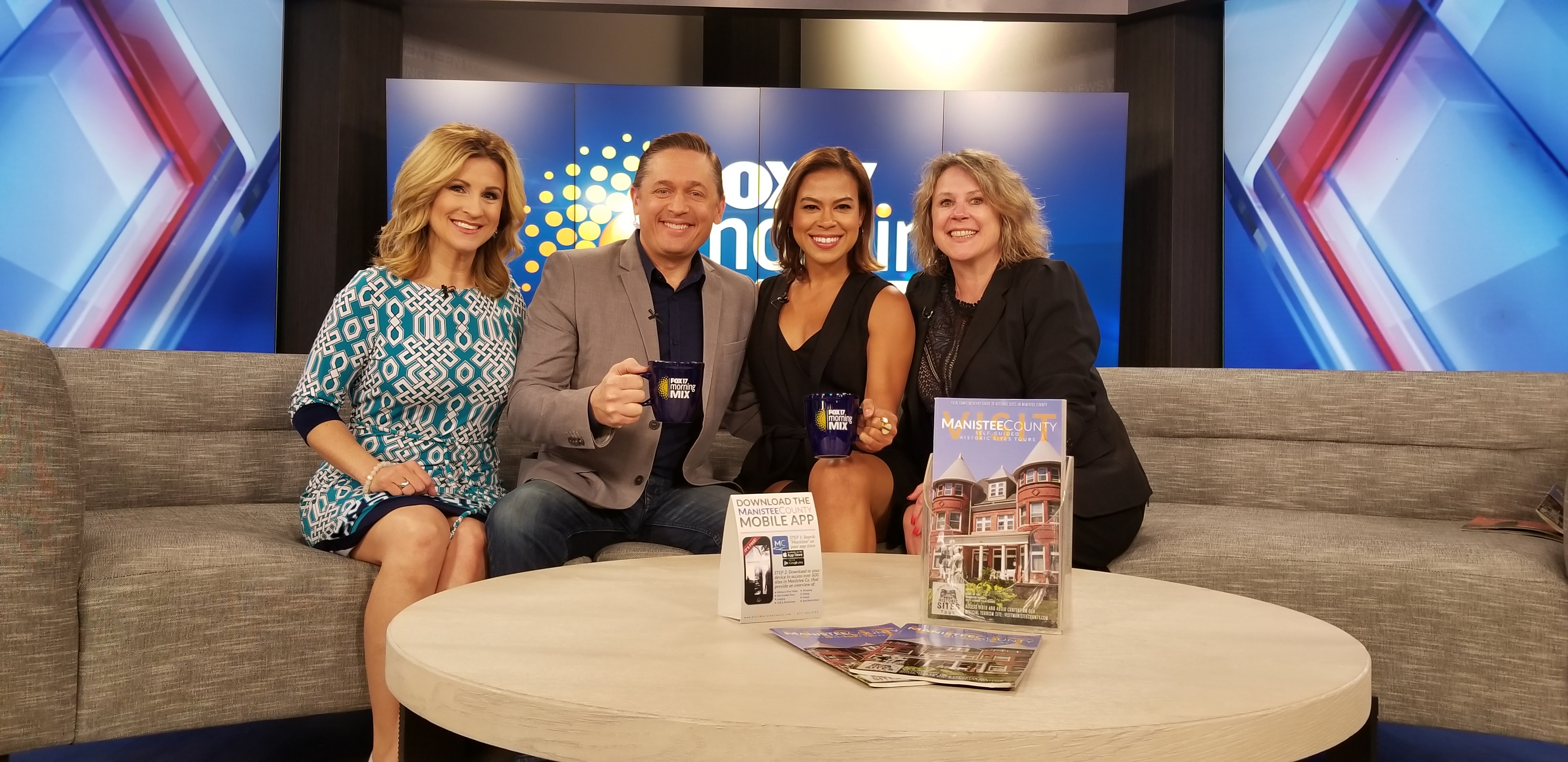 By: Andrew Allen
HOLLYWOOD ACTOR TONI TRUCKS DEDICATES HISTORIC SITES TOURS
Hollywood Actor and Manistee native Toni Trucks (known for her parts in Seal Team and Twilight Breaking Dawn)  came home for a very special event at the Ramsdell Theatre. Media and the local community gathered as Toni dedicated the Manistee County Historic Sites Tours, the county's most comprehensive tourism project in history, showcasing more than 100 historic sites through eight themed tours.
Trucks provided voice overs for more than 20 videos in the series, including a video shown to the audience about The Ramsdell Theatre, which holds a very special place in her heart. Ramsdell Regional Center for the Arts Executive Director Xavier Verna told the audience (before introducing Toni) that Toni Trucks had gotten her start acting at age 7 right there inside the Ramsdell Theatre.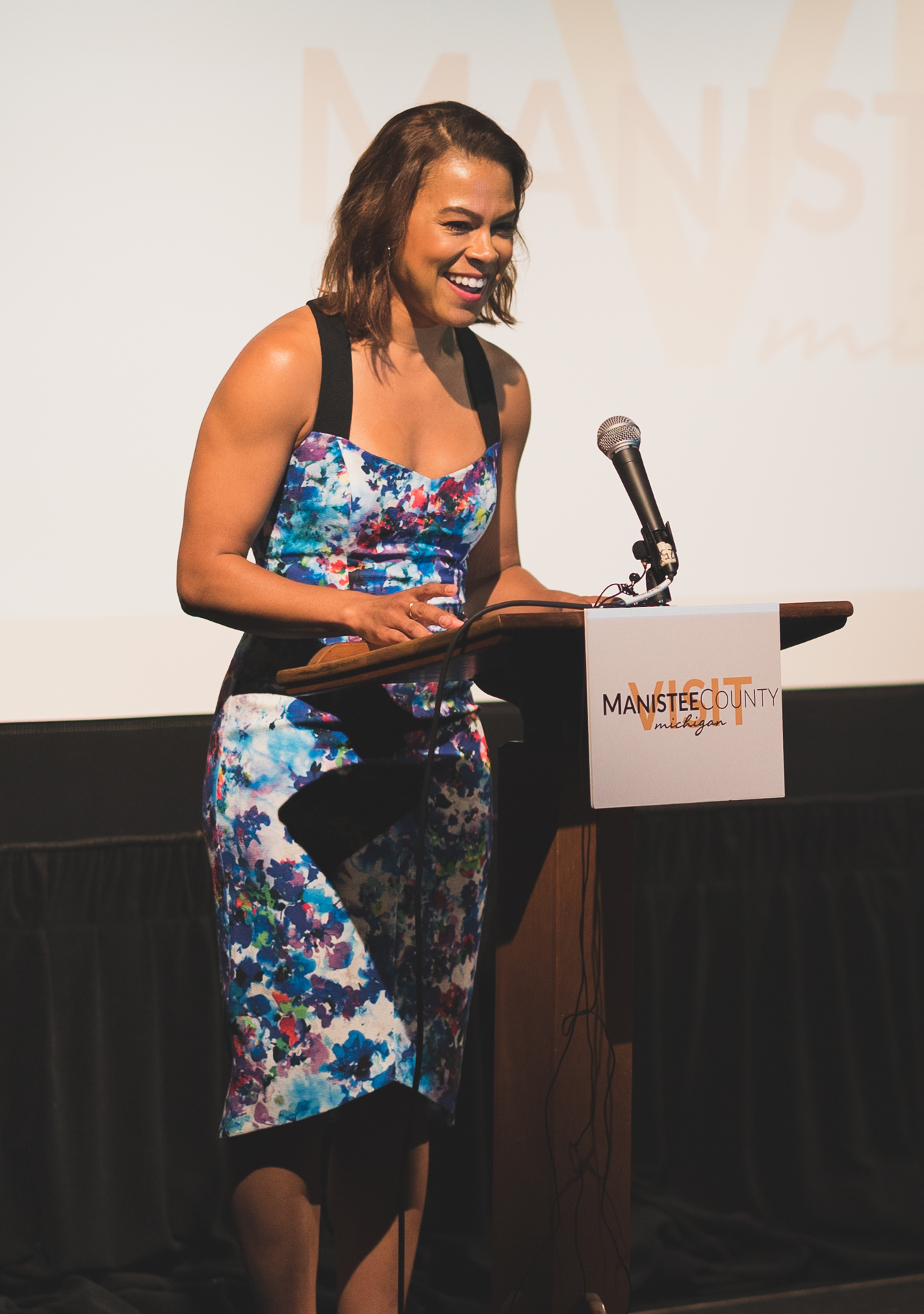 "I am so thrilled to provide the audio narration of the Manistee Historic Sites Tours," said Toni Trucks at the dedication event. "It feels like my hometown love has come full circle. Growing up in Manistee, I was completely enamored by the elaborate Victorian architecture that dominates the area. Manistee is flush with beautiful buildings with the breathtaking Michigan shoreline as a backdrop – and it has a rich, complex history to match.  It is such an incredible honor to help educate people further on this jewel that I proudly call home."
The project was spearheaded by the Manistee County Visitors Bureau who created the self-guided routes with accompanying guide book, map and mobile app with links to videos and images on visitmanisteecounty.com. The Manistee County Historical Museum was a key collaborator, identifying more than 100 sites with historic significance for the tours and organizing them into the eight themed tours.
Manistee County Visitors Bureau Executive Director Kathryn Kenny took to the stage to introduce the project: "Today is the culmination of a project that dates back to 2011 when it was just a kernel of an idea," she said. "When we looked at Manistee's brand assets, our rich history is one of the primary draws for visitors. Yet many of our most treasured buildings are private homes and businesses. This new Manistee Historic Sites Tour gives people an inside glimpse through videos and photos of these fascinating historic treasures."
Mark Fedder, executive director of the Manistee County Historical Museum, commented on the series: "Manistee may be the first county in Michigan to showcase its historic assets to this level of depth and detail."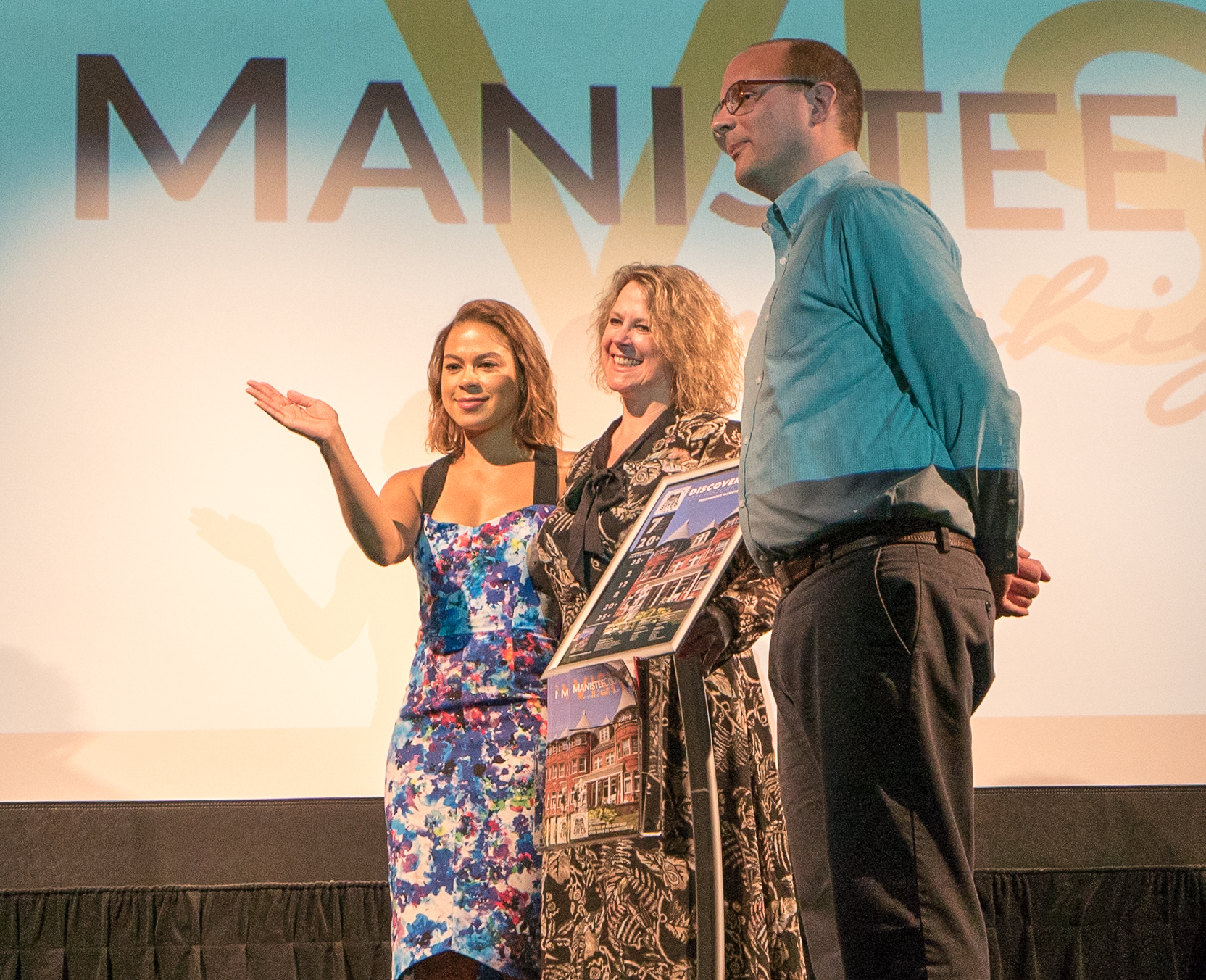 ON THE ROAD
Following the reveal, Toni Trucks and Kathryn Kenny of the Manistee County Visitors Bureau hit the road throughout West Michigan for a press tour coordinated by Kim Skeltis of Blue Blaze Public Relations to talk about the Manistee Historic Sites Tour with regional media. Check out the resulting stories below.
<iframe width='640' height='480' frameborder='0' allowfullscreen src='//cdn2.trb.tv/iframe.html?ec=NqZWNhZjE6d5Nw-lepoTnf44dRfnsS_2&pbid=5303db80d4274ad2b2ceadc3cffff2ae&pcode=MxYjUyOnb8KHXFcDIFgvI4cxtHXW'></iframe>
<iframe width="640" height="360" style="border-width:1px; border-style:solid; border-color:#e6e6e6;" src="https://media.wzzm13.com/embeds/video/8123796/iframe" allowfullscreen="true" webkitallowfullscreen="true" mozallowfullscreen="true"></iframe>
WZZM – "MY WEST MICHIGAN"
<iframe width="640" height="360" frameborder="0" marginheight="0" marginwidth="0" src="http://upnorthlive.com/embed/news/local/actress-toni-trucks-gives-voice-to-manistees-rich-history?external-id=aace566f38ee4f0e8acd94577d857c5d"></iframe>