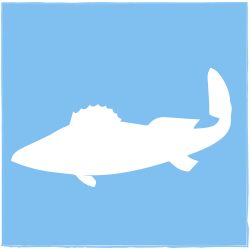 Fishing in Manistee County
If you have fished our waters before, you know why Manistee County is regarded as a "world class" fishing destination. We have three deep-water harbors on Lake Michigan and three top-notch rivers to fish or paddle.
A trip to the Little Manistee River Weir : One of the top attractions an outdoor enthusiast should check out is the Little Manistee River Weir Egg Take Station.  This is egg harvest station opens its doors and welcomes the public for a great educational experience.  Watch the video here and contact the Visitors Bureau to learn more.
Background photo courtesy of Eric Shaeffer
River, Lake & Launch Maps
Access our downloadable river and boat launch resources
Access each page for an interactive map:
Fish from the shore:
Miles of Lake Michigan Shoreline
World Record Brown Trout Caught
Number of Lake Michigan Harbors
EXPLORE FISHING IN MANISTEE COUNTY
Enjoy a day on Lake Michigan or on the calm waters of any of our three main inland rivers or numerous lakes.  Connect with one of our area charter's to learn more and plan your adventure!
GET STARTED AND GET YOUR LICENSE AND LEARN ABOUT THE SEASONS IN MANISTEE COUNTY
Search Fishing and Hunting by selecting a point on the map to learn more or you may access a complete list below.
---

Follow the travelers that love Manistee County, enjoy these stories about our incredible outdoor recreation, things-to-do, dining, shopping and unique experiences you will ONLY find here.
Browse our latest #MyManistee perspectives here, or scroll through these top stories in your category.
Check out all of our latest stories on our #MyManistee Blog.
Access River, Lake and Boat Launch Resources
Access our downloadable river and boat launch resources
Access each page for an interactive map:
---
Find Rivers in Manistee County