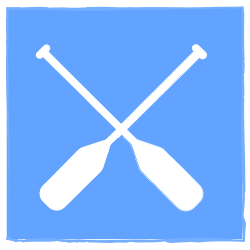 Rivers and Paddling in Manistee County
Pine River
Meandering throughout the Manistee National Forest
---
Quick, tight and loaded with white water, the Pine River is Manistee Counties fastest flowing river and is not for the novice paddler. If you are an adventure paddler looking for a challenge, visit the lower stretches of the Pine after a significant rainfall and enjoy the white water rapids.
River Difficulty/Paddling Tips
This entire river is considered to be for experienced paddlers only.  Current is especially swift in the spring after the winter thaw, or after a major rain event.  Because this river is very busy in the summer, you must obtain a river pass.  They can be reserved at any forest service location prior to your desired day at a cost, or may be obtained the day of for no cost.  Keep in mind, river passes are limited, so if you are traveling from a distance, be sure to reserve your spot on the river!
Tubing Tips
This isn't really a great tubing river.  The current is quite fast and tight.  We suggest tubing the Big Manistee or Little Manistee River.
Float Times
(See map below for location of access points)
– Peterson> Low Bridge :  2.5 hrs
– Low Bridge > Norman Dixon : .75 hrs