River fishing the waterways of Manistee County provides an experience rich with stunning scenic landscapes and abundant nature during every season of the year, including the winter months. The frozen riverbeds and snow-covered trees create a serene backdrop for a day casting on the open water.  All throughout the winter months, fishermen head to the two dams and dozens of streams of our county casting for steelhead, Coho, and many varieties of trout.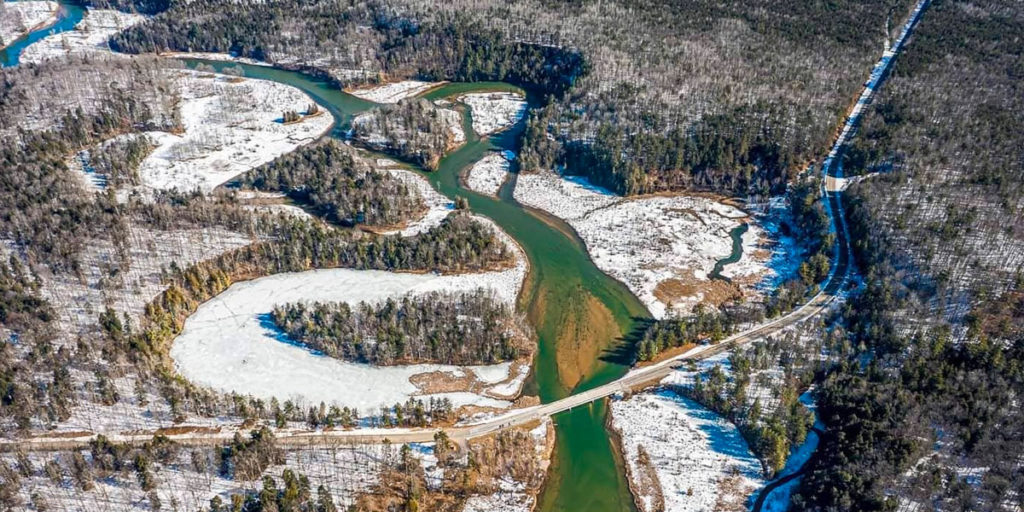 John Gouker of Gouker Fly Fishing has been fishing the waters of Manistee County for over 18 years and offers a wide range of fly-fishing guide services on the Big Manistee, Little Manistee, and Pine rivers. In all four seasons of the year, he assists anglers of every ability in chasing all types of cold and warm water species, trout, Smallmouth Bass, Northern Pike, Salmon, and Steelhead, which make great targets for the fly angler.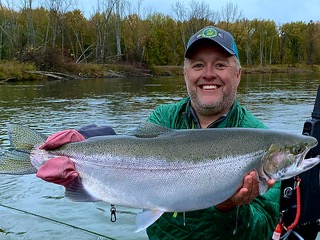 "What I think surprises people the most about fishing in Manistee County is the unlimited public access to water, as well as land that is both stunning in beauty and more remote than they anticipate.  Manistee is the perfect place to get out into nature for a relaxing day casting on the water. Then you are still close enough to town to go out and enjoy the Riverwalk and a great dinner at a local restaurant.", explained John.
John's Must Have Gear List
Polarized sunglasses are a must, both for eye protection and the ability to see into the water.
Sunscreen to protect your skin from the sunlight reflecting off the water.
Appropriate clothing layered for seasonal weather.
John takes great pride in teaching all aspects of fly fishing and helping to preserve the rivers and fishery through conservation practice. He serves return clients that come each year during their favorite season, he guides those new to the area that are interested in learning about our resources and can tailor a trip to fishermen at any level of the sport. Whether you are a new to the sport, or an experienced angler, John believes Manistee County can provide you with an unforgettable fishing experience of a lifetime.
Interested in more information about a river fishing charter? John can be reached at: goukerflyfishing.com