Welcome to Manistee County, Michigan
A Pure Michigan Passion Destination in Northwest Michigan.
Natural beauty.  It's northern Michigan's claim to fame, and it flourishes in Manistee County.  There are no big cities or suburban sprawl in our section of the Pure Michigan Mitten. Enjoy our 25 miles of sandy Lake Michigan shoreline, three Lake Michigan harbors, inland lakes, 270 miles of rivers and four-season fisheries. Visit our charming, historic towns and marvel at our fertile farms and lush orchards, and our thousands of acres of Manistee National Forest.
There are opportunities year-round to explore our county by foot, bicycle, motorcycle and auto, x-country ski, snowshoe, ATV, snowmobile, boat, kayak and canoe, as roads, trails, rivers and lakes crisscross throughout the county.  You can even explore the county by air.  Use this official tourism site in Manistee County as your complete tourism resource for traveling to Manistee and Northwest Michigan.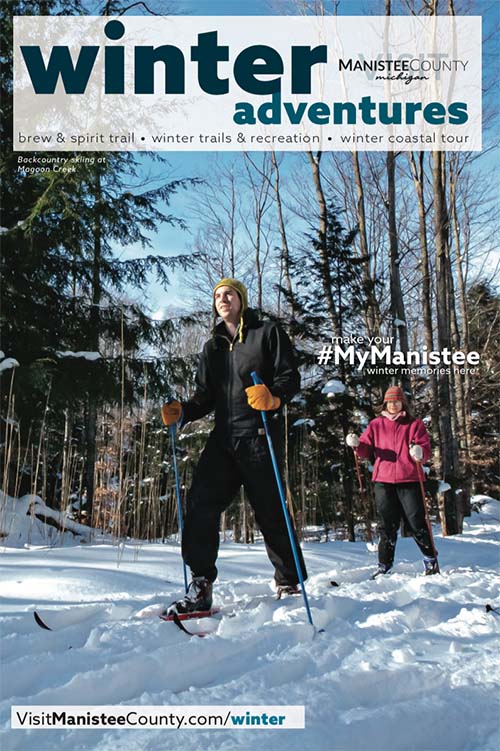 Access your FREE 2021/2022 Winter Adventures Guide
Get ready for your #MyManistee winter getaway! Access maps, insider tips, and our all new "Winter Road Trips" taking you to the best places in and around Manistee County. Request our latest Winter Adventures guide using the link below and we will mail you our FREE guide so you can start planning your ultimate winter adventure to Northern Michigan.
Your Adventures. Your Stories. #MyManistee
Live #MyManistee Beach Cameras
Live feed of the Fifth Avenue Beach in #MyManistee
Courtesy of City of Manistee
Live feed of the First Street Beach in #MyManistee
Courtesy of City of Manistee
Try A Self-Guided Tour in Manistee County
We have taken the guess work out of traveling in Manistee County with our self-guided tour series. We have compiled 15 self-guided tours so far and continue to add more each year as you, our loyal travelers, provide feedback on how you want to explore our region.  Browse our latest tours below.