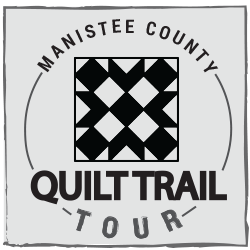 Quilt Trail Self-Guided Tour
The Manistee River Valley Quilt Tour is an ongoing project of the Arts and Culture Alliance of Manistee County. Community members have designed and created quilt patterns related to the history of buildings or communities in the county. They are then painted and affixed to the side of the building or other structure. There is also an explanation of each design.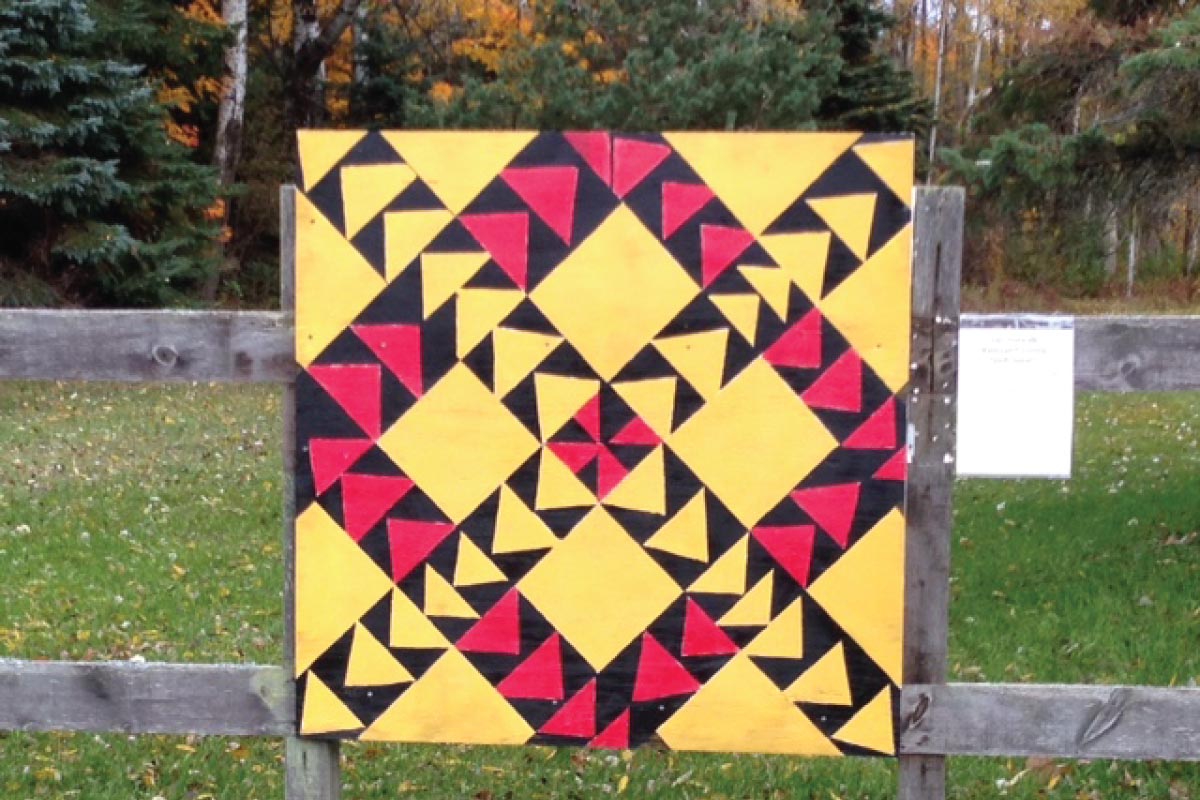 Anticipated Tour Time (hours)
HOW TO TAKE THIS SELF-GUIDED TOUR
Explore by our recommended tour route - or - Explore on your own
Explore with our recommended route map
For the Manistee County Quilt Trail, we recommend taking the following route (download a map and description here.)
Explore on your own
View the map and complete list of quilt sites in Manistee County.  Select a location on the map, or select a site to learn more and access historic content, photo of the quilt and more.
DIRECTIONS:
Begin just off US-31. The first quilt is located on "Old US-31," Collins Road, just off of Lyman Road. From here, continue south on Collins until reaching Coates Hwy. (part of Collins will be a dirt road). Turn east and continue until reaching the Lakeview Church of the Brethren and Brethren Heritage Association Quilt, both located in Brethren (2)(3). Continue north on High Bridge Rd. until reaching 9 Mile, then east to Marilla Rd. Turn left and travel 2 miles to the Marilla Museum & Pioneer Place (4). Back track down 9 Mile and turn north on Healy Lake Road/Osmo St. in Kaleva. The Autumn Star is at the Kaleva Art Gallery on Wuoski Ave. (Turn left from Healy Lake Road and it is across from the United States Post Office). From here, turn north onto Healy Lake Road/Osmo St. and continue 1 block until reaching Walta Street and the Tribute to Finnish Immigrants Quilt (6) and the Kaleva Railroad Depot Quilt (7). From there back track to 9 Mile Rd. and turn west. Continue on 9 Mile to US-31 and turn north until reaching the Fox Farm Nursery Quilt (8).
---
6759 Old US 31, Manistee, MI

,

Michigan, USA
14094 Coates Highway, Brethren, MI, United States

,

Michigan, USA
17955 Coates Highway, Brethren, MI, United States

,

Michigan, USA
9991 Marilla Road, Copemish, MI, United States

,

Michigan, USA
14449 Wuoksi Avenue, Kaleva, MI, United States

,

Michigan, USA
14420 Walta Street, Kaleva, MI, United States

,

Michigan, USA
Centennial Walkway, Walta Ave., Kaleva, MI

,

USA

49645
7615 11 Mile Road, Bear Lake, MI, United States

,

USA

49613