OneKama OneFifty
May 1, 2021

-

September 30, 2021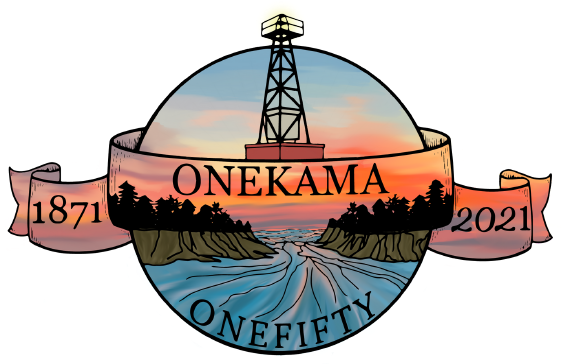 ONEKAMA

, MICHIGAN'S  "

OneKama

 OneFifty" CELEBRATION
150 years ago, 
Onekama
, Michigan had its official start.  The wildly fascinating story of "The Cut" is an iconic and life-altering event that shaped 
Onekama
.  The local homesteaders, tired of conflict with the Porter Lumber Milling Company whose dam at Portage Creek flooded farmland, took matters literally into their own hands. Illegally hand digging a small trench from Lake Michigan to Portage Lake to lower the lake to its original depth, the homesteaders created a fantastic spectacle! On the night of May 14, 1871 when the trench was completed, the water rushed out taking with it woods and sand and creating a channel 500 feet wide and 12 feet deep. This channel brought great opportunity for the homesteaders and the mill and remains to this day an integral part of the 
Onekama
 community.
Coincidently just a week before, the Postmaster General appointed a postmaster to an office at the newly named village of "Onekama".  2021 is the sesquicentennial anniversary of these two events.
Through a series of activities and events based on Onekama's 150 year anniversary, OneKama OneFifty will celebrate the Portage Lake Channel and the village of Onekama.  Activities will feature boat races and water recreation events, historical tours and programs, arts and literary tie-ins, a gala dinner, and a formal dedication of the Portage Lake channel to Lake Michigan.
"OneKama OneFifty" CELEBRATION Events 
June 11: Onekama Lions' Community Dinner with John Wemlinger's debut of The Cut, Historical Stories, and Games. Donations Appreciated. No reservations needed. (5:00pm-8:00pm, Onekama Village Park)
June 18: The Plans that Didn't Happen: North Point Park & The Changing Ecosystem walk. Free. Reservations: Parks@OnekamaTwp.org
July 8: Onekama Block Party "Then & Now"
July 14: Resorts & Camps We Have Known & Loved Presentation 
July 17: Harbor Commission Portage Lake Channel Dedication
July 17: ONEKAMA OneFifty Sailboat Regatta
July 21: Walking Tour of Historical Homes on the Point
July 30: Portage Lake Yacht Club Open House & Historical Presentation
July 31: Portage Lake Yacht Club ONEKAMA OneFifty Sunfish Invitational
July 31: Walking Tour of Portage Point Resort
August 4: Settlers and Shorelines: History Presentation 
August 5: Kids Story, Craft, and Playtime at Onekama Branch Library – Manistee Library
August 6-7: Onekama Parks & Rec Scavenger Hunt at Village Park
August 17-21: Manistee County Fair ~ 150 Years!
August 18: Lumberjack Show at Manistee County Fair
September 12: 150 Portage Lake Paddle Parade
October 7: Onekama Gala at Portage Point Resort
*Check back for event updates and details