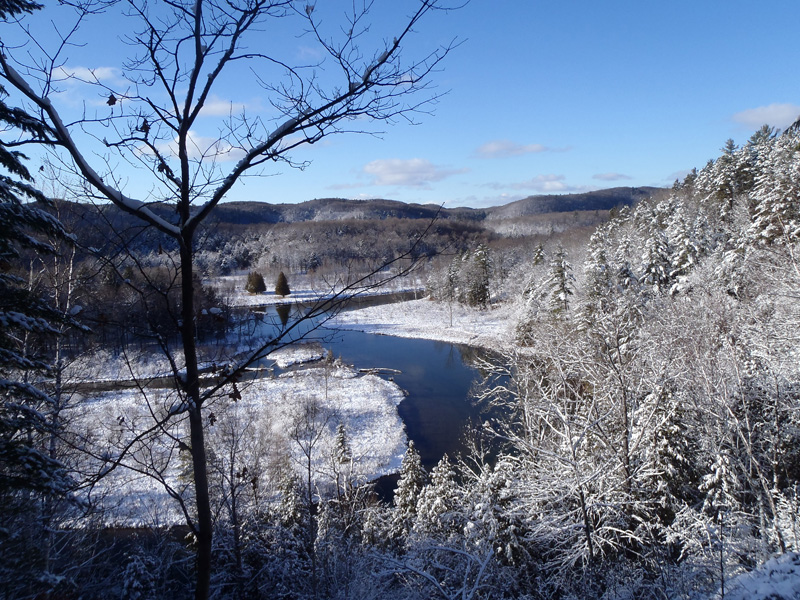 The snowshoeing opportunities in this area rock.  Recently my wife, myself and our 9 year old Weimaraner named Jade took a trip on the Manistee River Trail and had a blast. We dropped into the trail at Red Bridge (US Forest Service Trailhead with primitive camping and boating access to the Manistee River)
You will hike across the bridge and onto the trail where you will navigate the immediate hills to get into the "flats" of the Tippy Dam Backwaters.  During this stretch, keep to to the trail (marked with blue diamonds) as it can quickly turn to mush and you will bury your shoe into some cold muck.  Once you hike up the large hill you will have some pretty spectacular panoramic views over the flats.  This was the greatest point on the trail and is about 30 minutes into your hike.  Continuing down the trail, you will come across the ridge where an abundance of white pines will tower high overhead.
From there, the terrain will continue to become more varied and we recommend this stage for more advanced snowshoers (about 60 minutes into the hike).
We continued until we reached S. Slagle Creek Road, which has some pretty amazing views as well (download the map below here)   From there we turned around and took the trail back which was an 8 mile hike.  You can also take your 4×4 and stage a car at Slagle Creek Road if you want, but with it being a seasonal road, it can get pretty tricky and will test your driving skills.
Snowshoeing Trails in the area
MANISTEE RIVER TRAIL (TOP CHOICE)
Quite possibly one of the most beautiful spots to snowshoe in Manistee County! This 14-mile trail hooks up with the North Country Trail and is a great spot for the winter camping enthusiast as well! This trail overlooks the Manistee River and the scenery is breathtaking! If you can only get out snowshoeing once this year, be sure to make it count and pick the Manistee River Trail!
ARCADIA DUNES (BEST LAKE MICHIGAN OVERLOOK)
The Old Baldy Trail is simply spectacular during the winter months. The canopy of trees leading out to the dunes make for a calm winter feeling that will put you right at peace. As the trees thin, and you make your way out to the scenic overlook, you won't be disappointed gazing out at the ice formations hundreds of feet below.
ORCHARD BEACH STATE PARK (BEST FOR BEGINNERS)
Orchard Beach State Park is great place for beginners.  The trails are easy, flat and wide open. You need a State Park pass to enter, but both the trails and campground area are an enjoyable walk.  The 150′ overlook of Lake Michigan is also pretty sweet!
LOCAL RESOURCES
Find great lodging in Manistee County on your snowshoe vacation.
Also check out the latest visitors guide with a TON of maps and other resources for the winter sports enthusiast.