The same trails that beckon summertime travelers, offer a different deep woods experience when the snow falls.  Whether you are up for a big adventure or just want to give it a try, Manistee County is the perfect destination to enjoy a peaceful trek by snowshoe through more than 245 miles trails. Below are some of our favorite trails to explore in Winter.
No snowshoes? Rentals are available at Crystal Lake Adventure Sports in Frankfort.
Considered one of Manistee's hidden gems, Magoon Creek Natural Area, constructed in 1983 with funding from the DNR Trust Fund, provides a pet friendly, 1.5-mile trail to 2,300 feet of Lake Michigan shoreline with a view of the Manistee North Pier Lighthouse. Although ungroomed, this 97-acre natural area provides an easy forest trek for snowshoeing, cross country skiing, birding, or access for shoreline fat tire biking.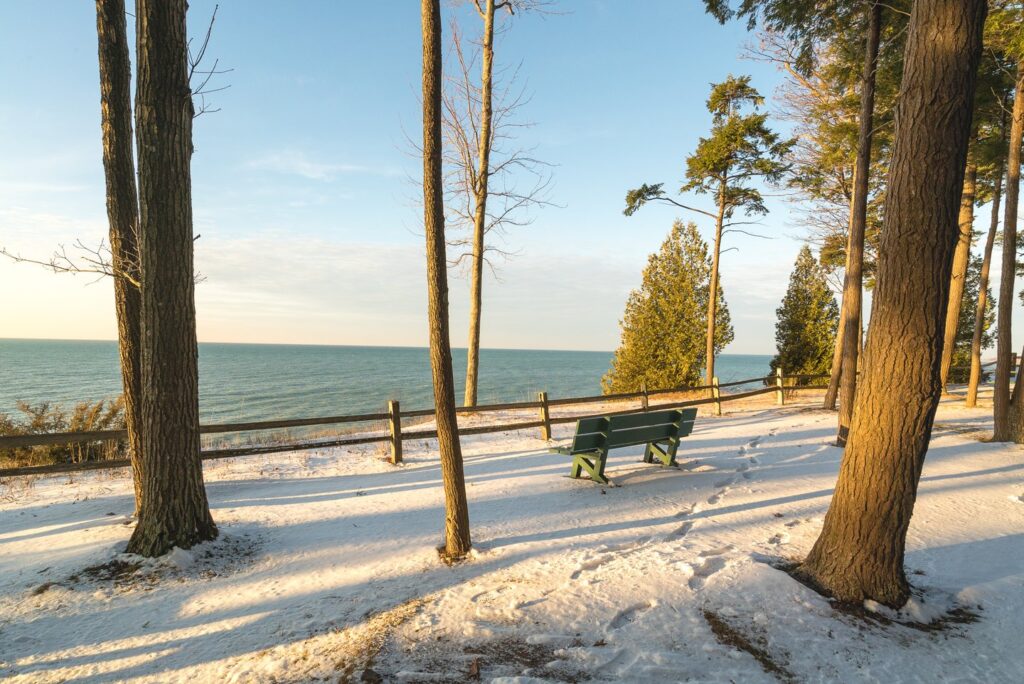 An Explore the Shores universally accessible site with very little vertical terrain, Magoon Creek is an ideal spot for winter trekkers of every ability. Consider this a perfect starter trail for a first-time snow hike with the family or plan for a more adventurous fat tire ride along the lakeshore. Either way, we think you will agree that Magoon Creek is a Manistee natural wonder not to be missed.
Trail Details: GPS: 44° 11.78880, -86° 22.37460
Benches & Picnic Area
Free Parking
Park closes at sunset
In the early 1950s, what is now the Big M Recreation Area, was a popular skiing destination known as Manistee Ski Area, complete with a lodge and 14 ski runs. Today this destination is still known for winter fun, although for winter warriors of a different sort. Offering almost 40 miles of trails carved out of the Manistee National Forest featuring hardwoods and a variety of terrain to challenge all levels, this popular groomed trail system beckons fat tire bikers, cross-country skiers, and snowshoers for a day of breathtaking winter adventure.
The Big-M trail system was designed in the 1980's by John Capper, a well-known cross-country ski trail designer. His trails were designed to be narrow and winding and use the hilly topography of the Udell Hills to their fullest. The design provided momentum on the downhills carrying skiers part way up the next rise. Big M stands as a tribute to his skill and is one of the largest X-country ski trail systems in the Midwest.
The Manistee Cross Country Ski Council and Shoreline Cycling Club work together in partnership with the U.S. Forest Service to protect and maintaining these trails for the enjoyment and benefit of the trail enthusiasts who travel from near and far to ski or bike the Big-M. So when the first snow flies, it's time to gear up and head to Big-M for winter adventure that will keep you coming back for more.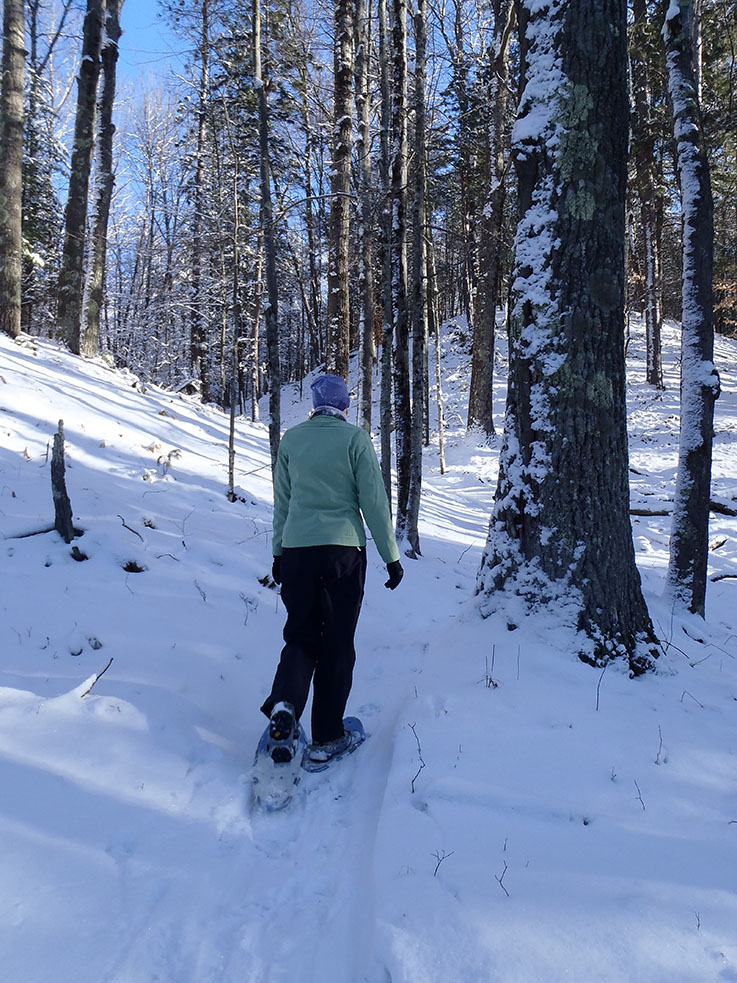 Big M Trails
Trail 37.9-mile loop
Biking loop 25 miles (one way, clockwise) Swedish Fiddle to Bindle Stiff Loop groomed by the Shoreline Cycling Club.
Cross Country Ski 18 miles of groomed trails groomed by Manistee Ski Club
Snowshoe 7 miles of ungroomed trail
Catamount Trail – Fat Tire/MB provides challenging climbs and fast descents linking to Cappers Corner.
Cappers Corner (aka Cappers Peak) you won't want to miss breathtaking 360-degree views of the Manistee National Forest.
Sky Pilot – This local favorite offers a narrow trail with fast corners, and fun jumps with easy landings.
Lumberjack Trail – Wide and flat, with a short downhill decent about a mile into the trail.
Corkpine Trail – This trail features a pretty mellow cruise. Optional connection to Bushwhacker for a zip along the hillside, earning the unofficial downhill named G. Bomber because of its steep grade.
Trail Details: GPS: 44.191498, -86.064341
Elevation High: 1089 feet – Low 706 feet – Ascent 3,160 feet
Grade: Avg 3% – Maximum 17%
Parking: Plowed
Pet Friendly
Average Annual Snowfall: 130 inches
Big-M is located in the National Forest, and a parking fee is required.  A pay station is available onsite, or seasonal passes can be picked up from the US Forest Service Office in Manistee. Day Use $5. Weekly Use $15
Current trail condition information can be found at: https://www.visitmanisteecounty.com/winter-trails-slopes
Arcadia Dunes: C.S. Mott Nature Preserve
In a dramatic local effort beginning as far back as the 1980s, this beloved land and its endangered species were saved from the grip of corporate development. Through the vision of Grand Traverse Regional Land Conservancy and the generosity and passion of the C.S. Mott Foundation and Arcadia landowners, and area residents the dream of conserving this land, valuable in natural resources, became reality. Since 2006, the Grand Traverse Regional Land Conservancy has developed and maintained this popular destination for outdoor recreation and provided all ability access to nature on the preserve lands of Arcadia Dunes.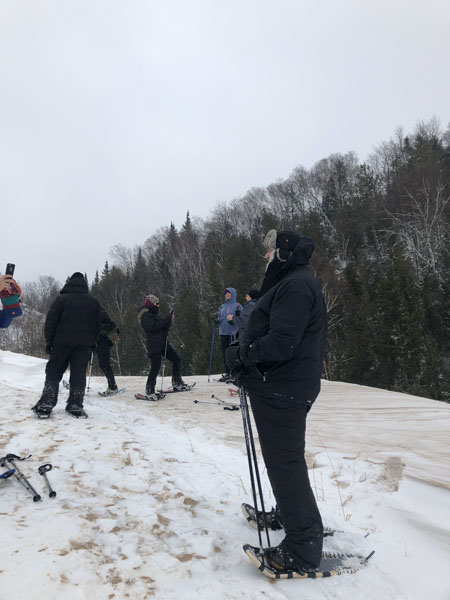 The Arcadia Dunes trail system offers well marked trails winding through woodlands and leading to stunning Lake Michigan views. With 3,600 acres and over 15 miles of trails, snowshoers, cross-country skiers and fat tire bikers will find plenty of land to explore the snow-covered dunes and forested trails.
Arcadia Dunes: Baldy Trail & Universally Accessible Overlook Trail
At Arcadia Dunes Baldy Trailhead you can customize your trek for whatever length hike you desire. The relatively flat terrain winds through the forest on either the single-track trail to the Old Baldy sand dune or the universally accessible boardwalk of the Overlook Trail. Create a trail adventure of your own design with an out-and-back trek of approximately 1 mile that leads you on combination gravel and boardwalk path to a stunning view perched 340' over the Lake Michigan shoreline. Or two additional looped trails of 2.5 to 3.5 miles in length, either of which allow access to the Old Baldy dune, accessible by a staircase that scales the edge of a sand dune (quite a challenge when the snow is deep, but not impossible!)Be sure to gear up, as these trails are not groomed in winter.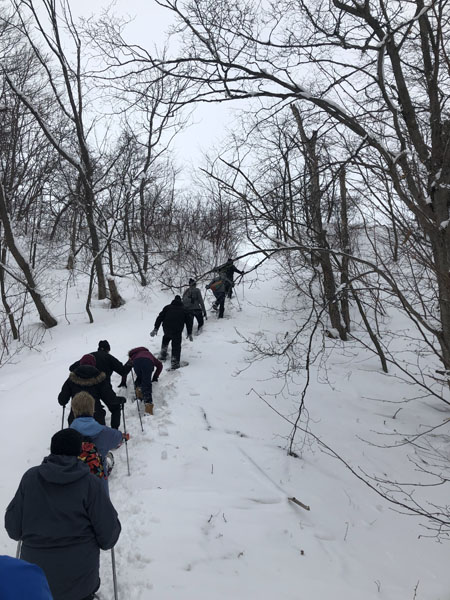 Arcadia Dunes: St Pierre Trailhead
Just across M22 from the Baldy Trails, the multi-use trails at Arcadia Dunes St. Pierre Trailhead are widely known for hilly terrain creating fantastic hiking and mountain biking, which transform in the winter months to a popular destination for snowshoers and fat tire bikers. Also accessible from the St. Pierre Trailhead is theCamp Trail is which is built on relatively flat ground, making it a perfect spot for cross-country skiing andbeginning snowshoe hiking. This trail system offers three un-groomed, loop trails of varying lengths all accessible from the St. Pierre Trailhead: Abby's Woods at 2.5 miles, Camp Arcadia Trails at 3.5 miles, and Dry Hill Trails (Chestnut Loop) at 11 miles.
Trail Details
Baldy Trails GPS: 44.525719, -86.222881
St. Pierre Trailhead GPS: 44.525964, -86.214534
Free parking
Parking lots plowed
Pet friendly
Average snowfall: 111"
No matter which trail you choose, you will experience a perfect Northern Michigan true snowshoe adventure. Start planning your trip today!