Cheers to you! #MyManistee
PERFECT PAIRINGS
Small Batches. Small Plates. That makes up the heart of the Brew & Spirits trail in Mansitee County.  We are proud to bring you truly artisan products, finally crafted by the people who literally pour their souls into their products.  Be sure to stop at all of our pairing stops and sample their originals.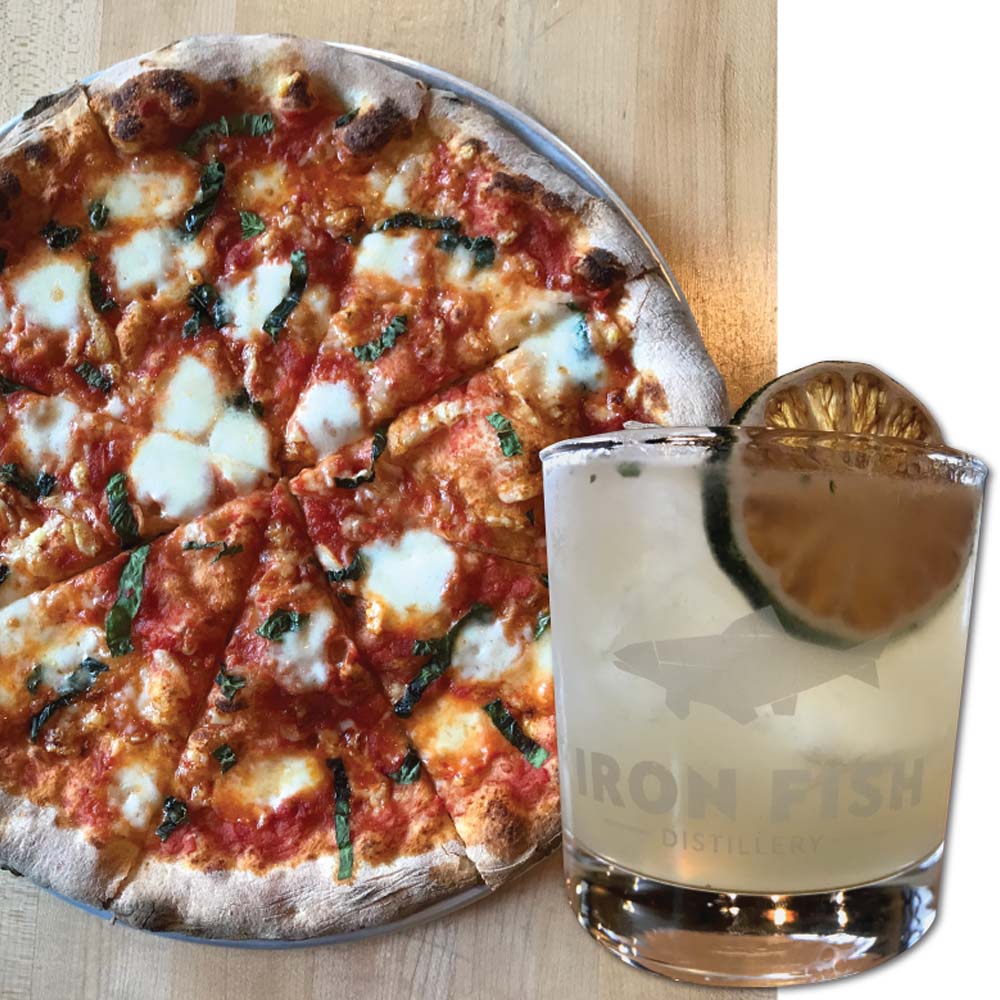 IRON FISH DISTILLERY
SMALL PLATE: Margarita Pizza
with red sauce, organic fresh basil, parmigiano and fresh mozzarella.
It starts with an 800 degree fire in our custom made Forno Bravo oven burning 3 year old select Red Oak and Ash. Our wood fired pizzas pay homage to the original style pizza, the Neapolitan originally created in Naples, Italy. We import organic Winter Wheat from farms in Italy, ferment and proof the dough over 24 hours and add simple, fresh organic vegetables and ingredients as available.  All pizzas can be made using Gluten Free crusts and Vegan cheese.

SMALL BATCH: Wile E. Coyote
Make it at home
– 3 spring Fresh Cilantro
– 6 large leaves Mint
– 2 oz. Iron Fish Michigan Woodland Gin
– 1 oz. fresh lime juice
– 1 oz. Jalapeno infused Simple Syrup**
Tools of the trade: Cocktail Mixing glass and shaker, strainer
Garnish: Fresh Mint, Lime Wedge
How to do it like the pros: Place the cilantro and mint in the bottom of a Mixing glass, add gin, lime juice and jalapeno syrup, top with ice and shake vigorously. Strain into an ice filled rocks glass and garnish.
**Jalapeno Simple Syrup 1:1 water and white sugar cooked until sugar is dissolved. While syrup is still very warm, add 1 or 2 halved, seeded jalapenos. Allow to infuse for 1-1.5 hours. Remove peppers and store syrup in a sealed container in the refrigerator. Keeps for 4-6 weeks.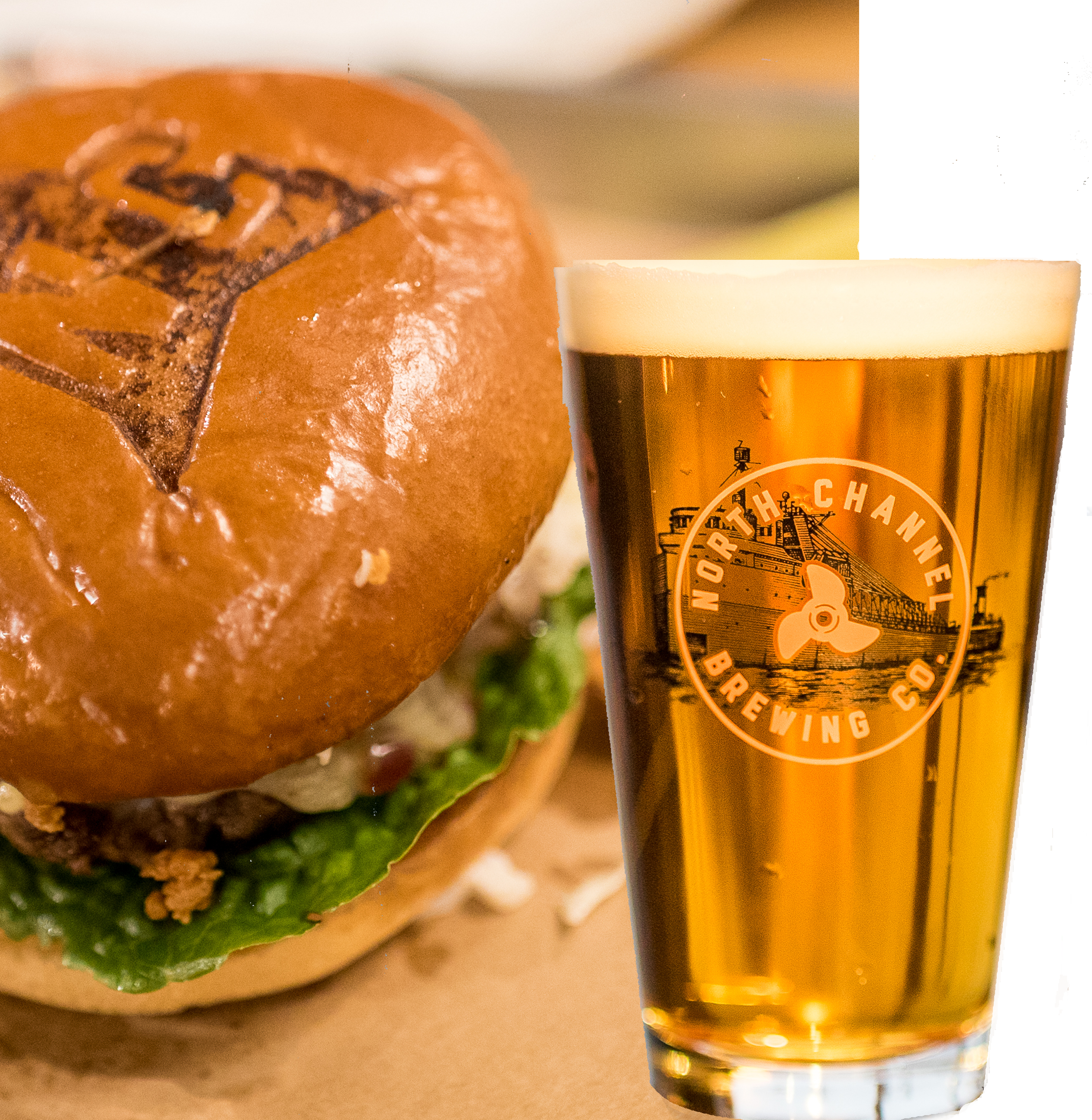 NORTH CHANNEL BREWING COMPANY
SMALL PLATE: Bacon Slaw Burger
with bacon jam, creamy Southern slaw, crispy fried shaved onion, white cheddar
A specaility, mouth-watering burger served with brioche with lettuce, tomato, onion, pickle spear and the house fried chips. 

SMALL BATCH: Manistee IPA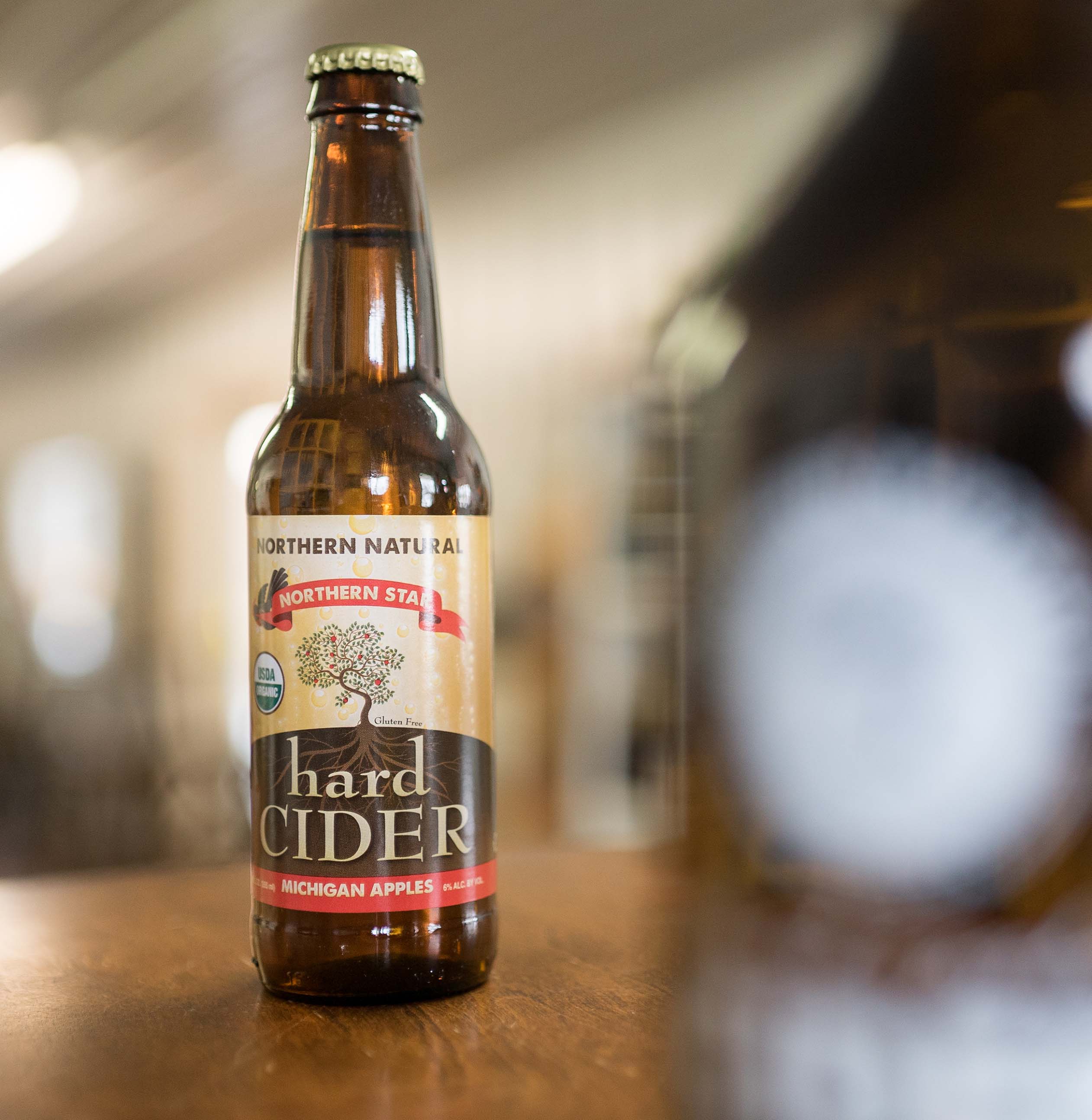 NORTHERN NATURAL CIDER HOUSE & WINERY
 SMALL BATCH: Traditional Hard Apple Cider
Our delicious hard cider is crisp and clean apply flavor. It is as if you are biting into a crisp apple and finishing with a dry white wine. All of our ciders are pressed and produced at Northern Natural Production site on Chief Rd Kaleva, MI. 
At Northern Natural we take it a step further by mixing together 7 different varieties of heirloom apples for a tastebud-tingling medley of sweet and tart flavors. Our premium gourmet blend includes: Red Delicious, Golden Delicious, Jonathan, Northern Spy, Rome, Ida Red, Macintosh
Available by the howler, by the growler, by the 12 oz bottle, or by the glass in our tasting house.
VISIT ALL 13 STOPS ON THE BEER & SPIRITS TRAIL
Begin your Brew and Spirits Tour in the heart of Downtown Manistee right on River Street where you will have 6 locations that are all easily walkable. This can also be a great day – 1 of a 2 – day brew and spirits tour throughout the region.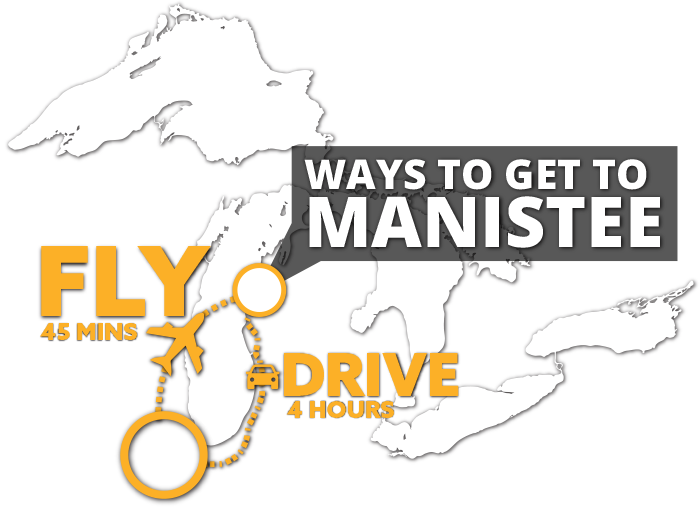 BY AIR OR LAND, IT'S EASY TO GET HERE
Be the first to 'check-in' on Facebook and 'tag us' on Instagram. Vacation starts sooner in Manistee County. We are a simple 4 hour drive from Chicago, or a quick 45 minute flight from Chicago O'Hare to Manistee Blacker Airport via our airline partner Cape Air.