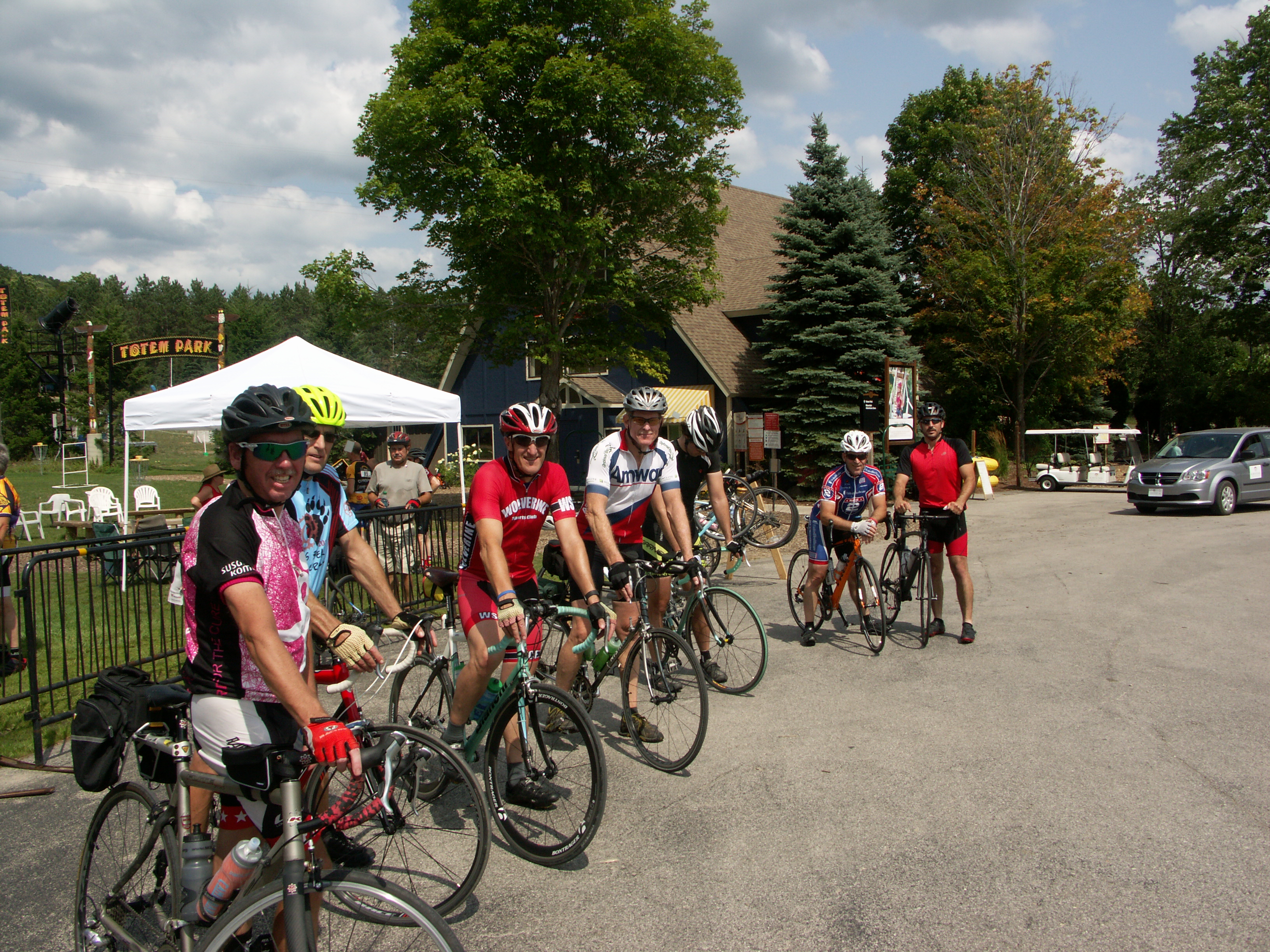 Multi-kilometer bicycle cruises, northern Lower Michigan scenery, campfires and camaraderie. It seemed like a success story just waiting to be written for Manistee County native Bob Schuelke. He turned a love of cycling and the community he grew up in into a celebration of fitness, endurance and the beauty of the area when he originated the Big Bear Butt Cruise, sponsored by the Big Bear Sportsman's Club in Kaleva.   In 2015, just its third year in existence, the Cruise hosted 165 participants from around the country and Canada, with nearly 50 percent having participated in the past.
Riders participate in their choice of four rides from 70K (43 miles), to 210K (131 miles), set up to be completed within a 12-hour period. Schuelke said the 210K participants are serious riders with an average speed of 20-23 mph, who started out around 6:30 a.m., completed the ride in 5 ½ to 6 hours, and spent the rest of the day enjoying Lake Michigan and the area. Families with kids and grandkids participated in the shorter rides, some pulling kiddie trailers with children or dogs, and 2015's oldest participant was 74 years old.
The routes take riders over the Big Manistee River, on Scenic Highway M-22 north along Lake Michigan, through Onekama, past the Arcadia overlook, the Village of Arcadia, and along Crystal Lake in Benzie County. An eclectic mix of eight stops to refuel includes Bear Creek; Tippy Dam; Douglas Valley Winery; Onekama Park; Arcadia Bluffs; Stormcloud Brewery in Frankfort; Crystal Lake and Crystal Mountain. Riders return to BBSC to grill out, swim in an above-ground pool brought in just for the Cruise and enjoy the rest of the weekend. All food stops on the BBBC are staffed and stocked by the Big Bear Sportsman's Club. They camp on BBSC property, with some electric hook-ups available, and restroom and shower facilities at the BBSC Clubhouse.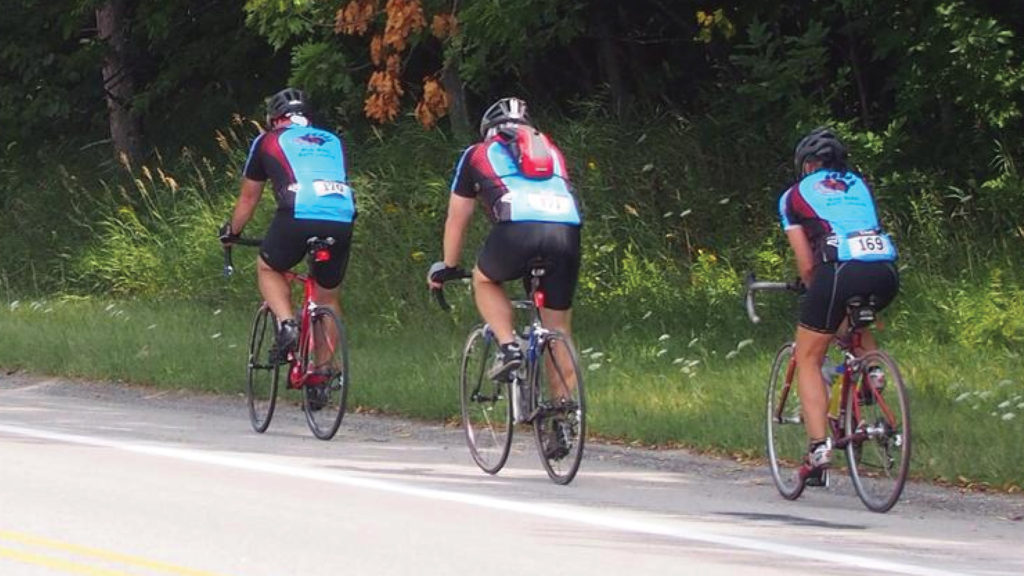 The event is held in late August because farmers are harvesting local crops and salmon are available. Sharing local foods is part of the northern Michigan experience, Schuelke said. "Riders camp on our property, we have bonfires, music, free food (on race day), so they don't have to travel to eat." BBSC also serves food and beverages on corn-based bio-degradable cups and plates developed at Michigan State University with a cost difference that is only $3 for 50 people, he added.
"Everyone is friendly and open. We talk speed, pace, time. We work our bodies to stay healthy and when we're done we all want a beer-we laugh about that," he said
"I can't tell you how many people said to me, 'the view from Arcadia overlook is one of the top five views of my lifetime,' or, 'oh my gosh, we didn't know that this was here', or, 'I want a piece of this, why don't we just stay here!'" Schuelke said. "How cool is that to share northern Michigan with others. We have so much to offer."
---
---
The club hopes to add mountain biking along the Big Manistee River, a Pedal and Paddle on Big Manistee River with floating food stops, and a Paddle at Red Bridge to the Cruise in the future, plus a fat-tire ride in February or March. The 2016 BBBC will be August 27.
The Big Bear Sportsman Club was started by a group of like-minded friends who wanted to share activities together and provide a service to the county. In 2008 they purchased 80 acres laid out so adjacent areas can function without disturbing each other said Dave Somsel, BBSC president. There is trap and skeet shooting, 3-D archery range and a unique, four-star archery course that runs through the woods, a 100-yard rifle range and 25-yard pistol range. The 3,500 sq. ft. clubhouse was built by all volunteer members. The group hosts an annual fund-raising game dinner and provides educational and social programs for children and adults and also offers scholarships. To check out 2015 Cruise photos and updates on the 2016 Cruise, visit bigbearbuttcruise.com or Facebook. BBSC is located at 8927 Puustinen Rd. in Kaleva. For more information about BBSC, visit bigbearsportsmansclub.com