Follow our Bridges & Dams Self-Guided Tour as it leads you to 10 spectacular structures. Manistee is home to 3 vehicular, 3 railroad, and 1 massive pedestrian bridge along with 2 hydroelectric dams, 1 egg take/salmon harvest weir, and 1 historic bridge site.
This tour leads you through our historic downtown to some of the more remote locations of our county. It provides the perfect snapshot of both impressively engineered structures and the natural beauty of our region. Although you will find some of these massive structures within the city limits, leading away from the city to more remote locations, we point your attention to two of the most popular destinations on this tour.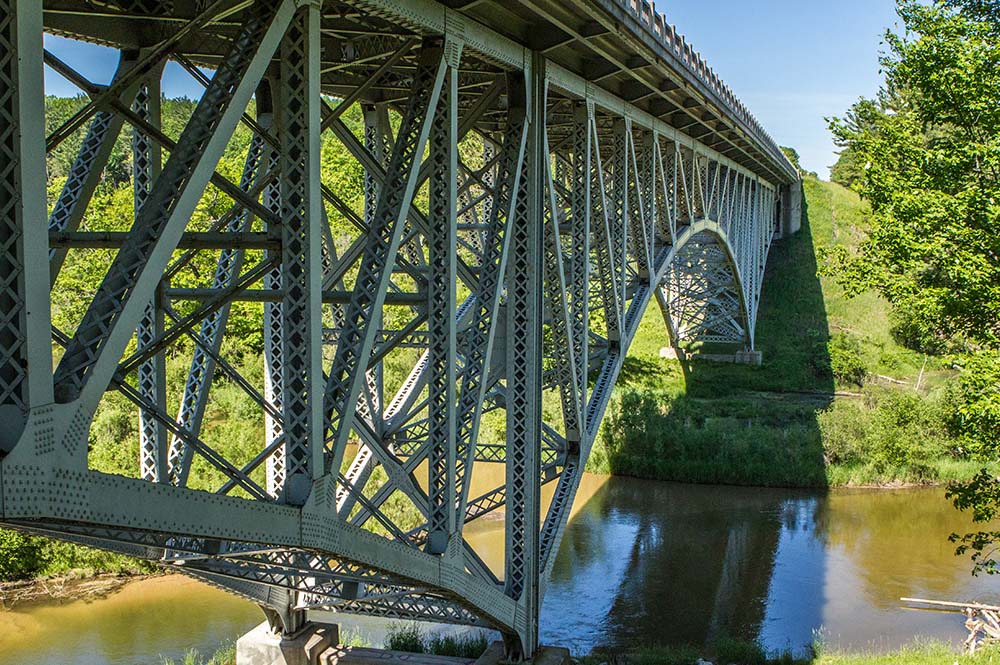 Cooley Bridge
Completed in 1934, Cooley Bridge is an impressive structure and is among Michigan's rarest truss bridge types. It was named after Mortimer E. Cooley, a University of Michigan professor and dean. The bridge features beams built with v-lacing and/or lattice, spans an impressive 300' at the main span, with a total span of 613' from beginning to end. The bridge is well-maintained and respected as a Michigan historic landmark.
At the site of this bridge, you will find a stairway that leads down beside the bridge for the purpose of viewing the structure as well as providing spectacular views of the Pine River in all seasons of the year.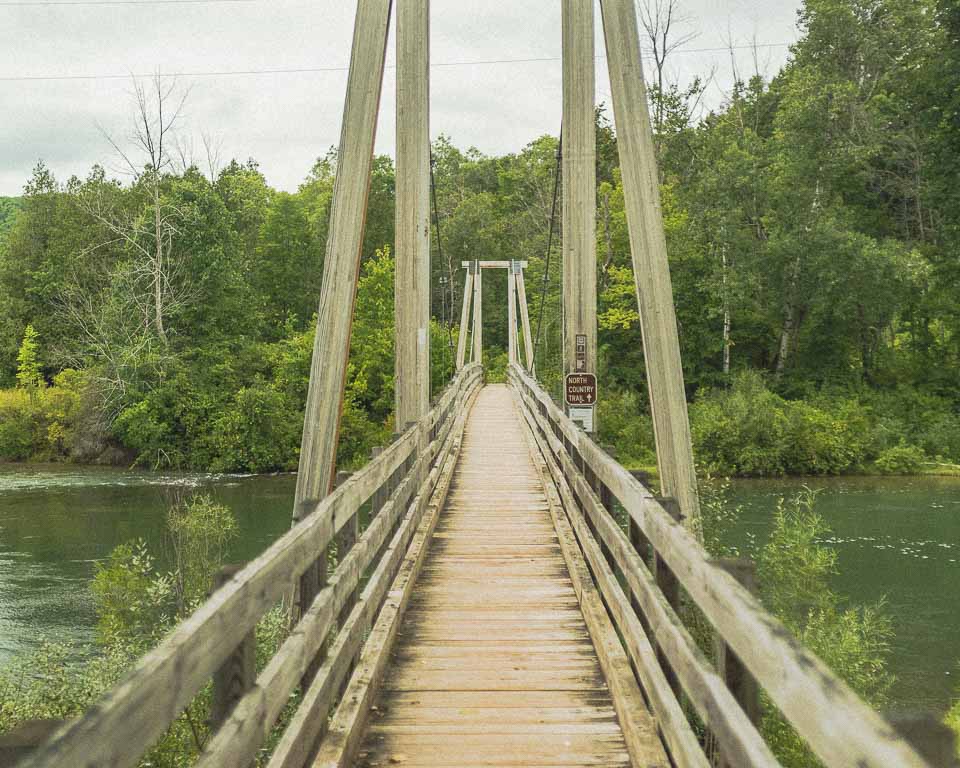 Little Mac Foot Bridge
One of the most photographed bridges on this tour is the Little Mac Foot Bridge. This bridge was constructed as part of an 11-mile trail project to create the Manistee River Trail in 1992, the Suspension Bridge, or "Little Mac" Foot Bridge is a 245' pedestrian foot bridge completed in 1996. It is the largest wooden suspension bridge in the Lower Peninsula.
While exploring the outer reaches of the county, you will find may great places tucked away in the forests of our Northwood Region. Whether you seek a small cabin or a motel room, one of these great locations have accommodations awaiting your arrival.
Manistee Outpost
Manistee Outpost provides access to some the best outdoor sports in the Midwest. Conveniently located between the Big Manistee and Little Manistee and the Pine Rivers, you will find some of the most beautiful and challenging sections of canoeing and kayaking in Michigan and are just a short distance away from Crystal Mountain Ski Area and Caberfae Peaks for winter fun.
For sports of another sort, visitors come for some of the best hunting, 'world record' trout fishing, and for hiking, biking, and morel mushroom hunting on Manistee's Big M Trail.
 Northwoods Cabins
Northwoods Cabins welcomes you to the heart of the Manistee National Forest. Located near the Tippy Dam and the Backwaters, the Big M for cross country skiing and mountain biking, the North Country Trail for hiking, Caberfae Peaks for downhill skiing and golfing. The cabins feature kitchenettes and private baths. Come and experience the outdoor activities that Manistee County has to offer. Northwoods Cabins truly offer "a place for all seasons."
Other Tours
The Manistee County Visitor's Bureau has created 14 self-guided tours to introduce visitors to all of the great things to see, do, and learn while in our region. From historic sites to artisan markets, these tours cover 835 miles and take you to 375 sites across Manistee County. Although you may not cover that much ground in one visit, these tours provide plenty of reasons to come back again and again.