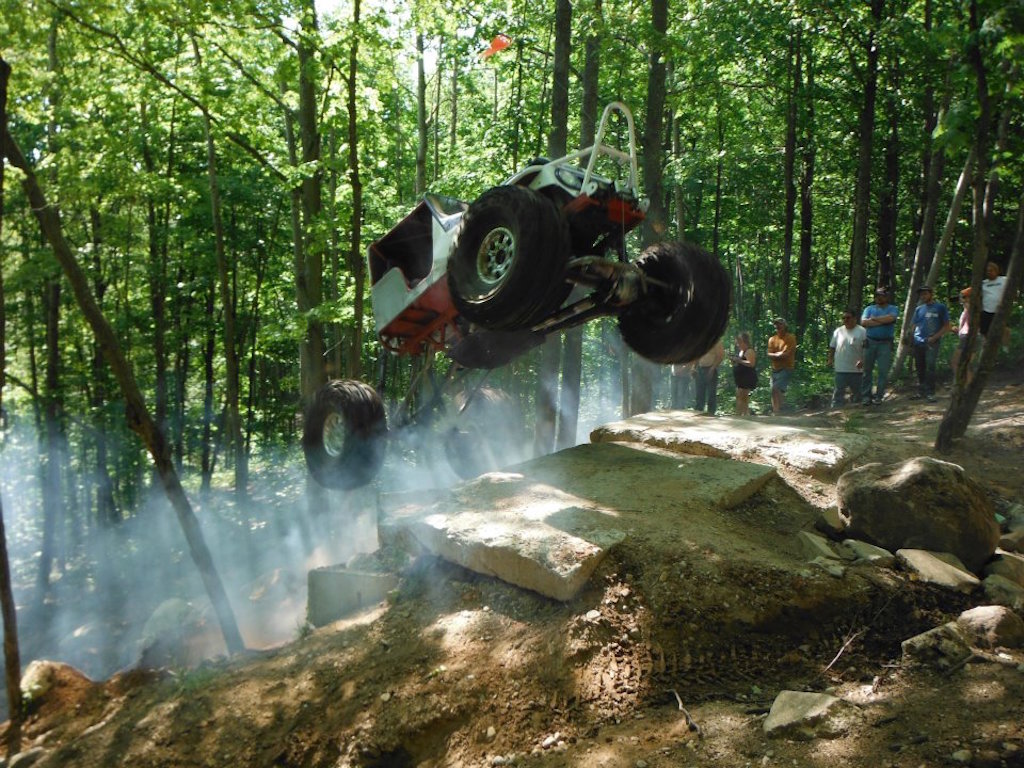 If spending weekends on ATVs climbing vertical rock walls, barreling through boulder gardens and mud bogs, joining in beat downs, truck pulls, dog parties and winter snow wheeling is your kind of fun, Twisted Trails Off Road Park is the place for you.
"We get it goin'!" Dale Humphrey said with a big grin. Humphrey, his cousin Gary Porter and high school buddy Cliff Kelly, all long-time, 4-wheeling friends from the Manistee area, opened the park in Copemish in 2007.
After the Michigan Department of Natural Resources outlawed 4-wheeling in the national forests many years ago, the three men began producing mud runs and special events shows at a variety of private locations. After 15 years they decided to purchase the Twisted Trails property and set up their own park. They traveled throughout Michigan and the U.S. to research other off road parks, chose the best ideas and then designed their own park, purchasing 200 acres and leasing an additional 60 acres.
"I've played with trucks all my life," said Humphrey, who started out with Tonka trucks as a kid, and graduated to diesel tractors, pushing dirt and boulders to create challenging trail systems, vertical rock walls and boulder gardens. "He's living the dream," said Corrina Bass, park manager and Humphrey's sister.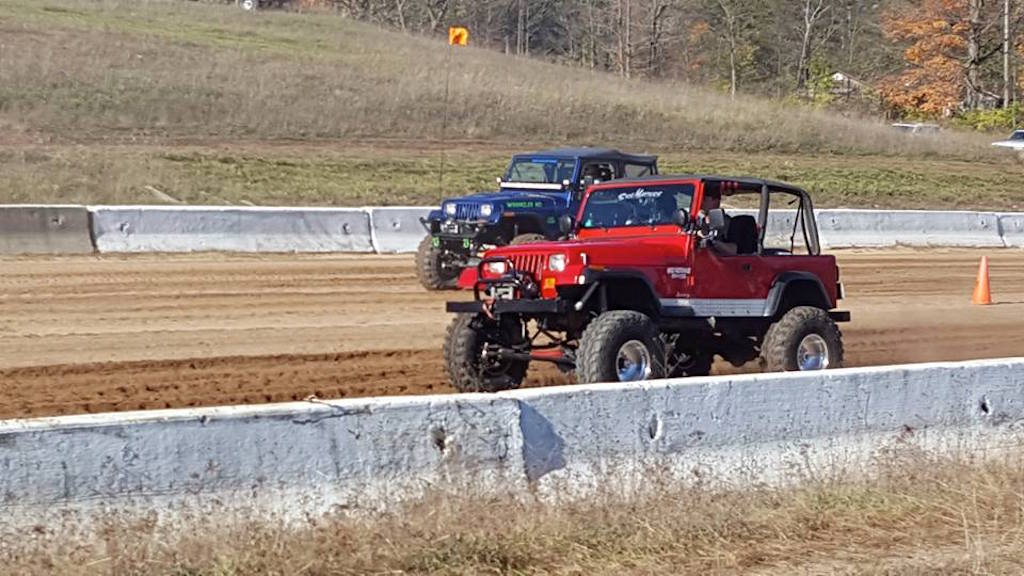 "You may look at the vertical walls and boulder gardens and say, 'No way,' but the vehicles are built to race through it-that's their purpose," said Humphrey. "The trail system is not set up to roll you over. Roll overs are for bragging rights at competitions. Trail drives in daylight are completely different. At night it closes in on you." A fully functional lighting system lights up evening events, and a concrete pulling pad is the stage for Tug of War events such as the Ford vs. Chevy vs. Dodge competitions, he added. There are snow wheeling events in the winter, and snowmobiling on the property is allowed with six-foot flags attached to the vehicles.
Weekend and special events at the park include the now trademarked Dog Party trucking event in February and March and again in August with live music. A stage was constructed a few years ago and many of the events include live music. In June the weekend-long Mud Stock and Concert (complete with tie-dyed t-shirts) brings in entrants with trucks bigger than campers, and entertains around 5,000 attendees. The mid-October Pumpkin Run and Haunted Trail Ride includes a hayride and visit from Sasquatch, and the first weekend in December visitors can donate to Toys for Tots or Adopt a Family. "There's something for everyone here," said Humphrey.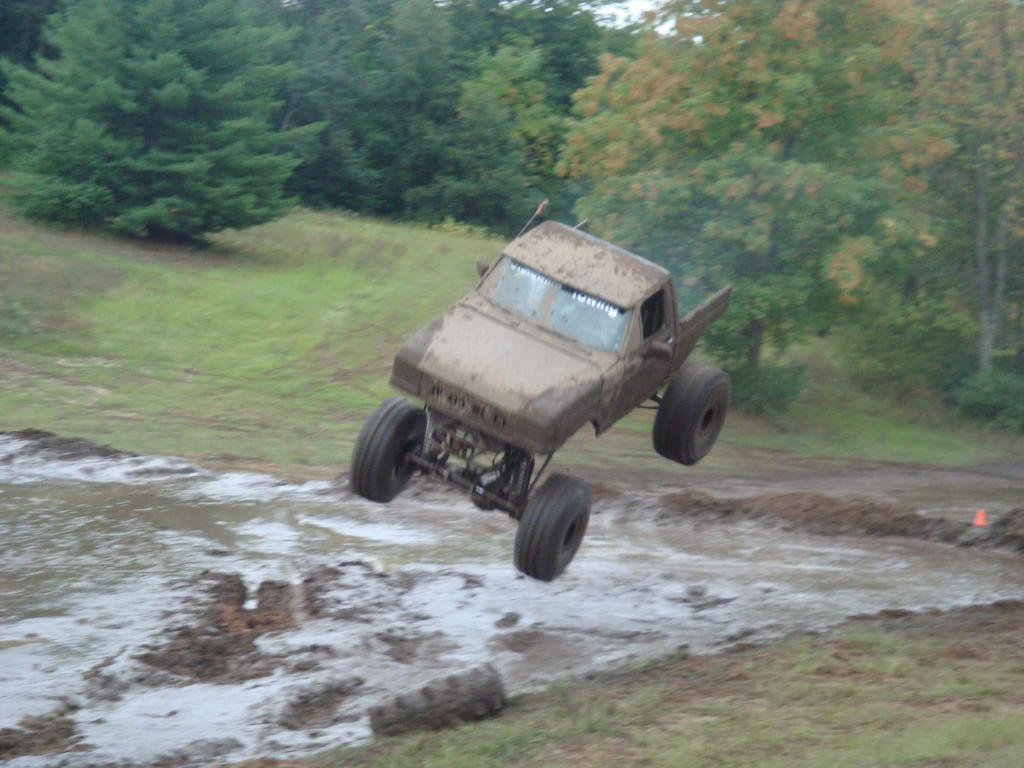 Since the concerts have become so popular, Humphrey said they hope to add Bluegrass festivals and a Battle of the Bands in the future. Also on tap will be a food truck and store for shirts, apparel, flags and snacks.
Twisted Trails is available to be leased for weddings, family reunions and graduation parties. It's been leased as the site of Muck Ruck, a military-style foot race and obstacle course, including water features, a rope climb, belly crawls and cargo nets.
There are food vendors for visitors and the park's Crystal View Campground is open April 1 through the first weekend in November, with 30 wooded sites with fire pits, some with water and 30-amp power, and reservations are available. There is additional rustic camping available on site as well. Crystal View Rentals rent 2- and 4- wheel vehicles, helmets, goggles, gloves etc. There is also on site air, a welder, and vehicle recovery(fee based).
Twisted Trails Off Road Park is located at 19405 Read Rd. near M115 in Copemish. Call 231.651.9548 or visit twistedtrailsoffroadpark.com and Facebook for more information.