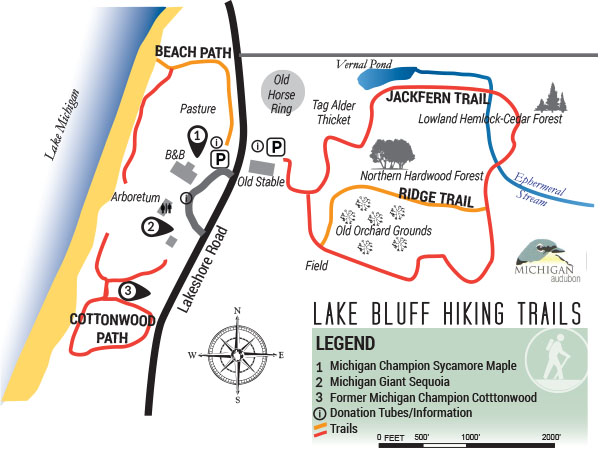 This jewel on Lake Michigan's shore boasts over 1500 feet of Lake Michigan Frontage on its 76 acres in Manistee County. Originally landscaped as an arboretum, many notable specimens have been preserved such as California Redwood, Ginko, and two Michigan Champion Trees, a Giant Sequoia and Sycamore.
Also notable are bird species both nesting and migrating through the area. Bald Eagles, shorebirds, and migrating warblers can be seen on the many trails in the sanctuary. Because the sanctuary is situated in a major migratory flyway, the site is an ideal location for the Migration Celebration, one of several birding festivals throughout Michigan each year.
HIKING TRAILS OF LAKE BLUFF
The 76 acres of the Lake Bluff Bird Sanctuary and Audubon Society have great trails that allow you to explore the diverse Michigan plantings available in our region. Plaques and other markers line the trails to inform and educate visitors on our natural landscape. When hiking the trails, a small donation is requested and may be dropped in the marked tubes.