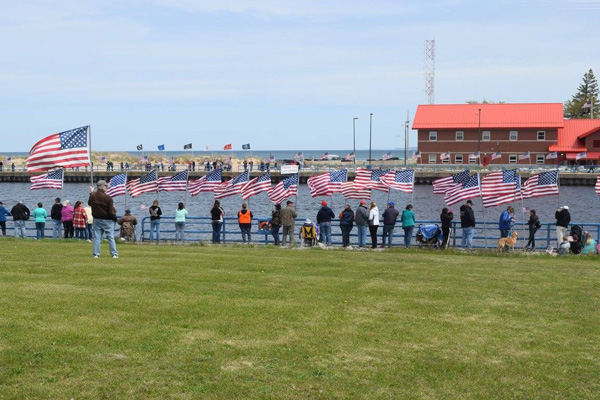 The piers at the mouth of the Manistee River are most often used for watching spectacular sunsets over Lake Michigan.  But on one weekend in May in Manistee, at dawn and again at noon, there are spectacular sights of a different variety to be witnessed.
In the pre-dawn quiet, more than 60 fishing boats gather in the harbor basin, engines off.  On board each boat are the captain, crew and teams of United States Veterans.  All eyes are focused on the bow of Coast Guard Station Manistee's 47-foot Life Saving Boat centered among them.  As the sun begins to rise, a prayer of blessing is followed by three kilted bagpipers playing "Amazing Grace", then a bugler plays Taps.  Suddenly, boat engines roar to life and crews and Vets head out on the "Big Lake" for an exciting morning of salmon and trout fishing.  At noon, as the teams return to the Manistee River Channel to make the two mile trip upriver to Seng's Marina on Manistee Lake, they will be saluted by the welcoming cheers of thousands of flag-waving onlookers from along the piers, Riverwalk and drawbridges.
A few years ago event founder and charter boat captain Bob Guenthardt enlisted the help of Manistee's Little River Casino Resort in producing an event aimed at entertaining Michigan Vets.  While being shown appreciation for their service, participants would have the opportunity for a day of fishing, fish tales and life stories.  Manistee area boat captains and crews would have the chance to share their passion for fishing Lake Michigan's premier fishing destination with those Vets who might otherwise not have the opportunity to enjoy the experience.  It has become quite a fruitful partnership.  Last year's event attracted Vets from 165 Michigan communities.
In previous years Tightlines for Troops veterans of WWII, Korea, Vietnam, Panama, the Cold War, plus Vets from conflicts in Bosnia, Kosovo and Somalia, Iraq and Afghanistan are expected to join in the fun.  Those who receive "boarding priority" are WWII Vets, Purple Heart recipients, Veterans disabled, POWs, Families of Gold Star Veterans, and then any Veteran of any branch of service.  Manistee County's Explore the Shores program makes many of the fishing piers, beaches and the city's Riverwalk universally accessible as well, for those who fish the Shore Division.
"For some recently injured Vets, this is an opportunity for them to reclaim themselves," said Michael Harris, Director of Paralyzed Veterans of America, Michigan Chapter.  "Some have difficulty accepting their disability.  Doing something they did before their injury shows them that the disability doesn't have to define them.  For a lot of Vets, this is the first time anyone has come out to thank them and they get emotional."  Harris added that he is impressed with how warmly the Manistee area embraces this event.  Tight Lines funds donated to PVA, Michigan Chapter are put back into the organization's sports program.
Richard V. Briggs, Jr., Major, U.S.A.F. Retired, Veterans Program Manager for the Brain Injury Association of Michigan said that many returning soldiers do not want people to know they've suffered a traumatic brain injury.  "Vets don't walk in the door to lay out their issues. Invisible head wounds are treatable, but the Vet must ask for help.  Tight Lines cuts through that.  It's very therapeutic."  He added that Tight Lines presents an enormous opportunity for Vets to talk to other Vets about the Tight Lines experience when they return to their home communities.
In expressing gratitude for the event a previous participant said, "When I came home from duty, we were told not to wear our uniforms.  The people were tired of Southeast Asia.  Thank you for honoring these great men and women for their service.  I was honored to be part of the day."  Another participant shared these feelings: "This is the Welcome Home I never received.  After all these years, I cried because I didn't realize how much it meant to me.  I was proud to take part."

The success of this program is due to the collective efforts of over 500 sponsors and volunteers.  Veterans pay no charter fees or entry fees.  Residual proceeds from donations benefit the Michigan Paralyzed Veterans of America, the Manistee County Veterans Endowment Fund and the Veterans Program at BIAMI.
Everyone is invited to join in the patriotic welcome.  For details and events schedule, visit www.tightlinesfortroops.com.  You may also follow the other fishing tournaments in Manistee County at:
VisitManisteeCounty. com.
LOCAL RESOURCES
Find great lodging in Manistee County on during the "Tightlines for Troops" event.