With open water year-round on the 4 rivers of Manistee County, winter paddling adventure abounds from the same access points paddlers enjoy in the summer months.  Don't let colder temperatures keep you away from paddling when the snow flies.  You will find the scenic rivers blanketed in the sparkle of winter provide a whole new paddling experience.  All along the river routes, nature finds its way to the water source creating the opportunity to view birds and woodland creatures of every sort at close range.  It will be an experience filled with breathtaking beauty that will call you back again and again.

Where to Drop In
Blueberry Lane (at the base of the Little Mac Suspension Bridge) to Red Bridge – 4 Hour Trip
Starting Point GPS: 44.365527, -85.826411
All day adventure with plenty of good stopping spots along the way.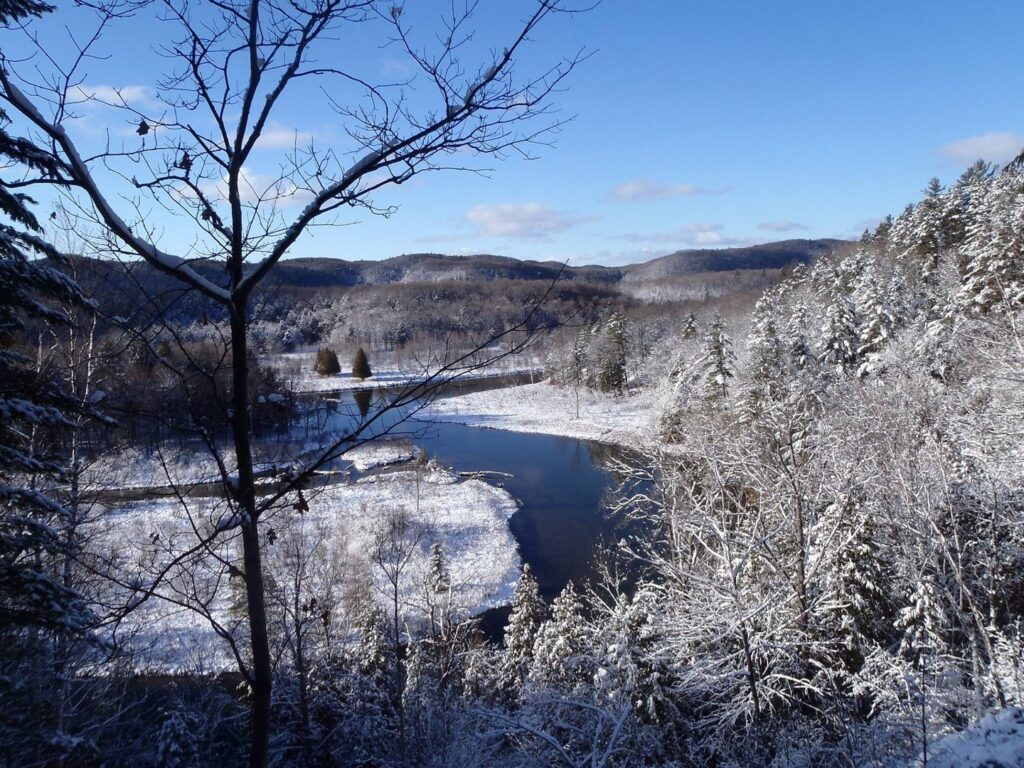 High Bridge to Rainbow Bend – 2 Hour Trip
Starting point GPS: 44.268282, – 86.014527
A shorter float from point to point still offering a terrific winter landscape.
Expert Tips:
Be careful of thin ice gathering on the banks of switchbacks, contact with this ice can easily tip your watercraft.
Take two dry bags with a full change of clothing. Getting and staying wet is just not an option.
A heavy wool blanket in the bottom of your watercraft, even if it is insulated, will be a blessing, as the winter water is REALLY cold.
Waterproof gloves to the middle of your arm are a necessity, as you cannot avoid your hands getting in the water and they have to stay dry.
There may not be a better way to experience the beauty and serenity of the winter season than paddling the Big Manistee River. Just wait until you see!
Start planning your winter paddle today!