Bike. Ski. Trek.
With a rich history dating back to the 1950s, the Big M Recreation Area offers almost 40 miles of trails winding through the Manistee National Forest featuring terrain carved through the hardwoods to challenge all skill levels.  This popular groomed trail system is one of the largest X-country ski trail systems in the Midwest and time and again beckons fat tire bikers, cross-country skiers, and snowshoers back for unforgettable winter fun.
The current Big-M trail system was designed in the 1980's by renowned cross-country ski trail designer John Capper.  Designed to be narrow and winding, this trail system makes the most of the hilly topography of the Udell Hills.  The Manistee Cross Country Ski Council and Shoreline Cycling Club work together in partnershipwith the U.S. Forest Service to protect and maintaining these trails for the enjoyment and benefit of the trail enthusiasts who travel from near and far to ski or bike the Big-M.
When you are ready for some big winter trail adventure, head to Big-M to with skis in tow to glide through the winding woods on glistening trails or gear up for some fast-paced fat tire excitement that will leave you breathless.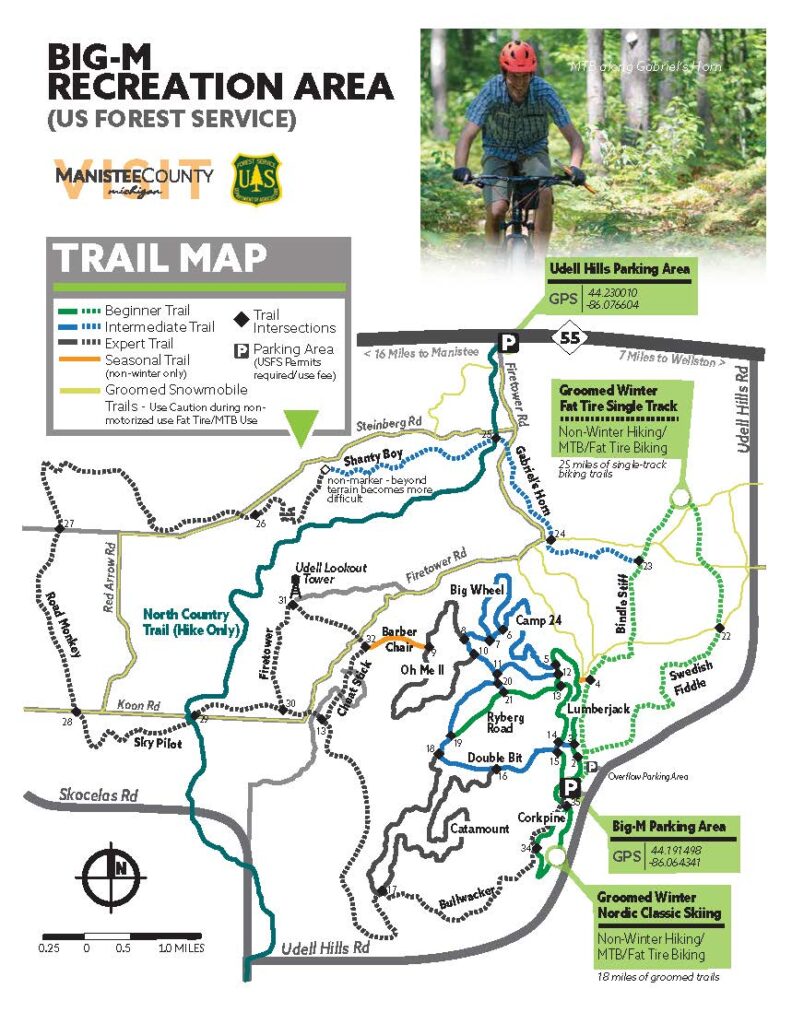 Trail 37.9-mile loop
Biking loop 25 miles (one way, clockwise) Swedish Fiddle to Bindle Stiff Loop groomed by the Shoreline Cycling Club.
Cross Country Ski 18 miles of groomed trails groomed by Manistee Ski Club
Snowshoe 7 miles of ungroomed trail
Catamount Trail – Fat Tire/MB provides challenging climbs and fast descents linking to Cappers Corner.
Cappers Corner (aka Cappers Peak) you won't want to miss breathtaking 360-degree views of the Manistee National Forest.
Sky Pilot – This local favorite offers a narrow trail with fast corners, and fun jumps with easy landings.
Lumberjack Trail – Wide and flat, with a short downhill decent about a mile into the trail.
Corkpine Trail – This trail features a pretty mellow cruise. Optional connection to Bushwhacker for a zip along the hillside, earning the unofficial downhill named G. Bomber because of its steep grade.
Trail Details: GPS: 44.191498, -86.064341
Elevation High: 1089 feet – Low 706 feet – Ascent 3,160 feet
Grade: Avg 3% – Maximum 17%
Parking: Plowed
Pet Friendly
Average Annual Snowfall: 130 inches
Big-M is located in the National Forest, and a parking fee is required.  A pay station is available onsite, or seasonal passes can be picked up from the US Forest Service Office in Manistee. Day Use $5. Weekly Use $15
Current trail condition information can be found at: skimanistee.org
The Big M delivers on the XC Skiing adventure you seek. Plan your stay and check out all of the other things there are to see and do while you are in Manistee County on our Winter Travel Planner page.