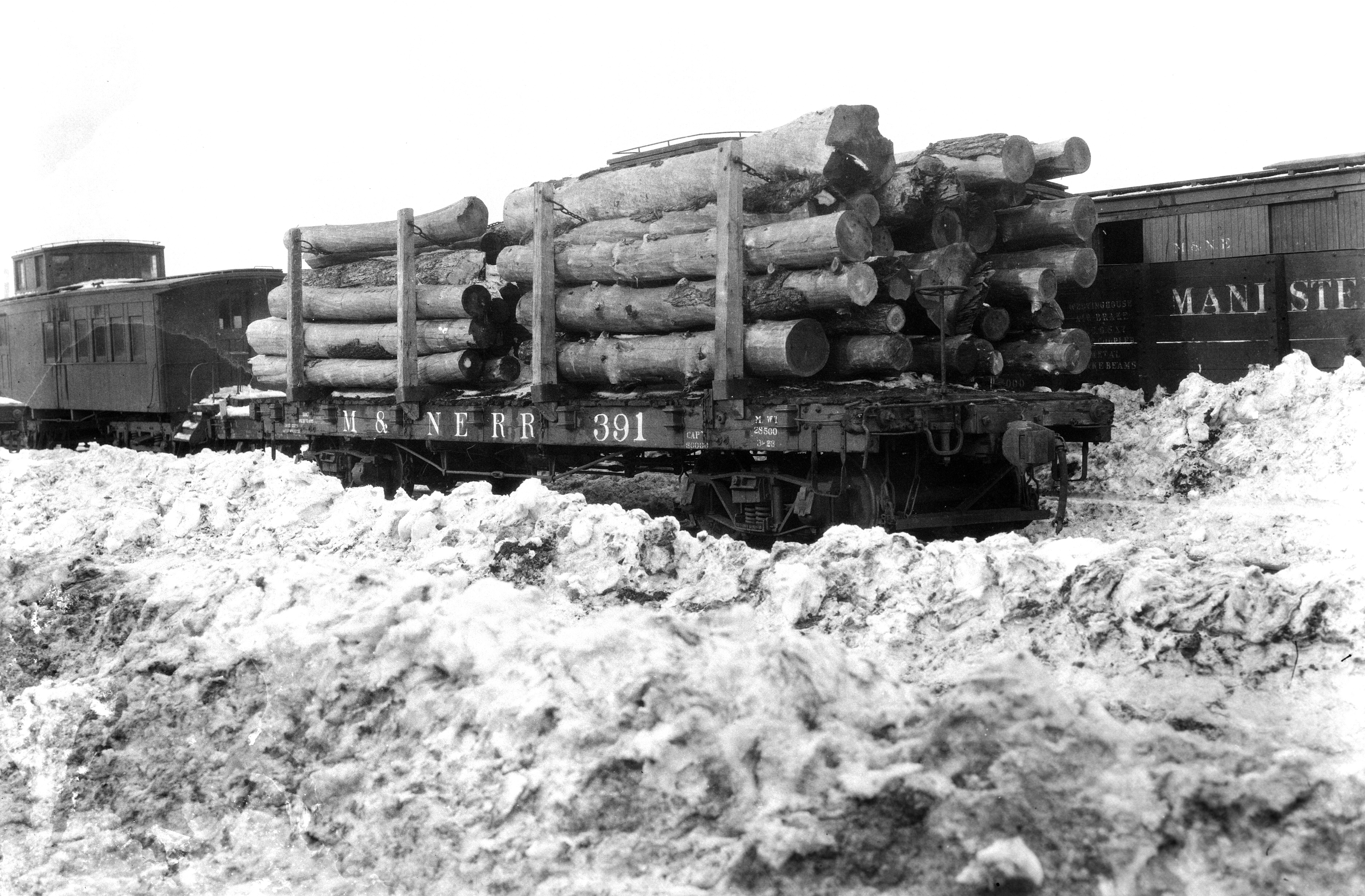 To take a glance into the past is to delve into the world of yesterday where how people lived, worked, dressed, and traveled can all at once be foreign and similar to the way in which we live today. With Manistee's place in history as a towering lumber industry, the town itself needed to use railroads in order to conveniently transport logs out of the forest as well as in and out of the various sawmills that surrounded Manistee Lake.
At first utilizing four main railroads for the transportation of lumber, all but one of these railroads eventually became used for passenger service shortly by the turn of the 20th Century and along with it Manistee's growth as the premier lumbering town in Northern Michigan.
Manistee and Northeastern Railroad
Originally conceived as a logging railroad, construction of the M. & N.E. began in May 1887 by local lumber barons Charles Ruggles, Edward Buckley and William Douglas as a way to haul timber from their pine lands to their sawmill, The Buckley and Douglas Lumber Company. However, realizing that more money could be made by making the train route a standard gauge railroad, the organizers decided to add passenger service to the line and by January 1889, the first official passenger run of the Manistee and Northeastern commenced with a trip to Bear Creek.

Over the next four years, more track was laid and by 1892, the train eventually wound its way to Traverse City opening up various branches whilst passing through smaller communities such as: Newland, Douglas, Onekama, Norwalk, Chief Lake, Bear Creek, Kaleva, Lemon Lake, Copemish, Nessen City, Karlin, Interlochen, Lake Ann, Solon, Fouch, Greilickville, and Traverse City. With the railroad passing through these small communities, foot traffic increased and some of the areas prospered and began to grow.
As the years passed, the M. & N.E. covered approximately 120 miles of track with the amount of passengers increasing to a height of almost 200,000 by the late 1890s and early 1900s.
With many good years behind it the railroad began to experience a tumultuous period as portions of the available virgin timber in the area began to decrease leading to the closure of many of the area's sawmills. However, in 1910, the line had reached Grayling and with it, access to more timber which went a long way in helping to maintain the railroad line for a few more years.
Even though passenger service kept on, the M. & N.E. had ceased to become profitable and in 1924, a new corporation was formed to help the unstable financial situation of the railroad. With more people traveling in automobiles and numerous branches closing (all leading to an eventual decrease in passengers) the line was turned over to the Pere Marquette Railroad in 1932. A small trickle of travelers continued until the last passenger train, running from Manistee to Kaleva, was discontinued in November 1949. However, in January 1955, the Chesapeake and Ohio line began to reuse the M. & N.E. tracks as a passenger service and for the next eleven years continued to do so until ceasing service in October 1966. The line continued to be used for freight until February 1982.
Manistee and Luther Railroad
The Manistee and Luther Railroad was the longest and longest lived of R. G. Peters' many railroads. Peters had spent over a decade working on railroads before entering the logging business. With this knowledge, he was one of the first in Manistee and in Michigan to use rails to transport logs.
Construction of the narrow gauge commenced in 1885 at the Peters mill in Eastlake and extended east across Manistee County and into Wexford, Lake and Mason Counties. Tracks were frequently laid hastily which led to numerous accidents and fatalities. The eastern terminus of the tracks changed continuously to reach current logging operations. The Manistee and Luther continued operation almost until the last log was sawed in the Peters mill in 1913.
Although numerous smaller railroad lines passed in and out of Manistee County over the years, the Manistee and Northeastern, Manistee and Grand Rapids, Flint and Pere Marquette, and Manistee and Luther helped solidify Manistee's place as a towering lumber industry.
Manistee and Grand Rapids
Shortly after the Manistee and Northeastern Railroad began service, another branch line into the city was put into place. This new railroad, called The Manistee & Grand Rapids was incorporated by a group of local stockholders, who all had interests in the lumber industry: John Canfield, E.G. Filer, James Dempsey, R.R. Blacker, Louis Sands, E.N. Salling, T.J. Ramsdell, A.E. Cartier, Charles Canfield, Frank Canfield, and Henry W. Marsh.

Construction of the line began in Manistee and eventually found its way winding south through Filer City where it crossed into Mason County and later Lake County. Much like the Manistee & Northeastern Railroad, the Manistee and Grand Rapids was initially used to haul logs and freight but later switched to a passenger service.
After the corporation failed, an outside organization bought all the assets and formed a new line, called The Michigan East and West Railroad in 1913. A short time later the East and West constructed an extravagant depot located on Water Street. However soon after World War I, the company failed and all of their assets were taken over by the Pere Marquette Railroad which liquidated the operation.
The Flint and Pere Marquette Railroad
The Flint and Pere Marquette Railroad was one of many post-Civil War railroads built at a time when public and private (economic development) grants were readily available for railroad construction. When the firm first approached Manistee in 1872 for funds to assist it in reaching Manistee the local community refused to provide funding since the community had 3,000 freighters each year which could take passengers to Chicago and Milwaukee. (D. L. Filer moved to Ludington in disgust after the refusal.)
A decade later a compromise was reached when the railroad agreed to reach Manistee if the community would provide a depot site. Despite promises and numerous beautiful illustrations an elegant depot was never built.
Through multiple consolidations and reorganizations, the Flint & Pere Marquette provided local passenger service for 80 years and freight service for over 125 years. The Manistee Branch built in 1881 from Wallhalla to Filer City continues to provide service to Manistee in an era when few railroads are left in northern Michigan.