Manistee County Coastal Fall Color Tour
Manistee County is home to diverse fall color. With the seasonal temperatures, Lake Michigan and inland terrain variations, we have "two" fall color seasons that are usually about a week or so apart with the inland terrain peaking prior to the coastline peaking.  This is great for tourists and locals alike, as they get a little more enjoyment of our regions spectacular fall foliage.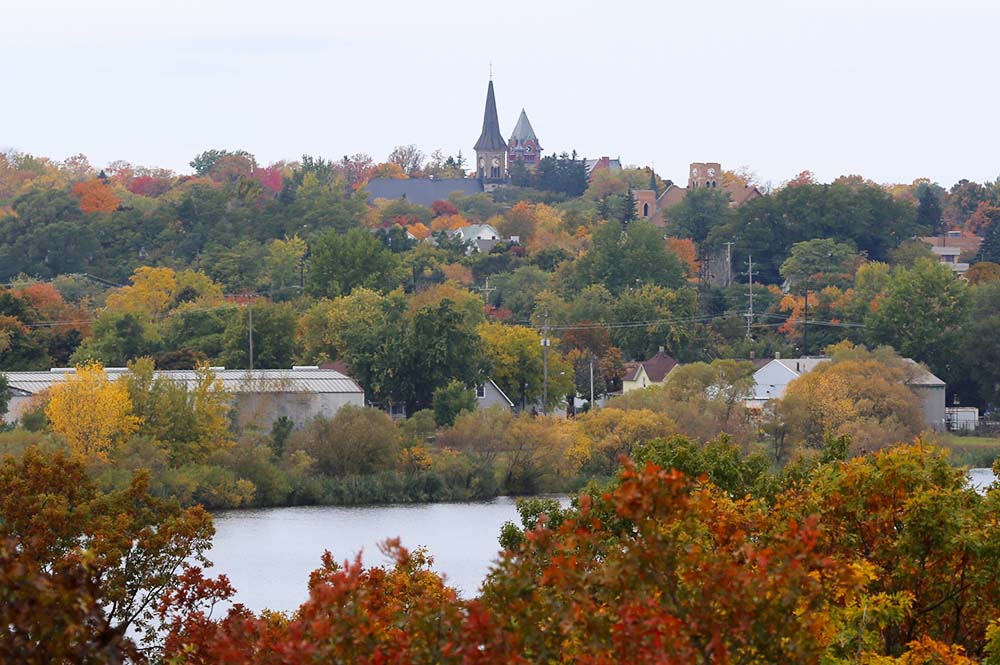 Scenic Fall Color Flights
Anticipated Tour Time (hours)
HOW TO TAKE THE TAKE THIS SELF-GUIDED TOUR
Explore by our recommended tour route by downloading the map below, or access our Interactive tour map.
Explore with our recommended route map
To explore all of the points of interest and recommended driving route along the Lake Michigan Coastline, download the .pdf here to access turn-by-turn directions and additional information about each point of interest.
Explore using our Interactive Tour Map
Access all of the points of interest along this tour route with our dynamic google map that we have created. You may follow the route and select the interactive points that we have outlined to learn more.
Manistee County Coastal Fall Color Tour Driving Directions
Begin your coastal tour in the heart of Downtown Manistee. This tour will take you along much of the coastline, returning down US-31 through the heart of Bear Lake and the eastern side of the North Coast Region.
Begin by taking the scenic drive along Lakeshore Drive. Michigan Highway M-110 is a "branded" highway amongst the locals and you will frequently see signs of pride indicating you are on this beautiful tree-covered stretch of road – similar to what you would expect to see on M-22, but on a smaller scale.
Lake Bluff Bird Sanctuary: This jewel on Lake Michigan's shore boasts over 1500 feet of Lake Michigan Frontage on its 76 acres in Manistee County. Originally landscaped as an arboretum, many notable specimens have been preserved such as California Redwood, Ginko, and two Michigan Champion Trees, a Giant Sequoia and Sycamore. You will also marvel at the diverse collection of birds that congregate at this location.
Stop at the Art Deck & Camp Tosebo: Just off of M-110 on Miller Road, you will come across Camp Tosebo and the always unique "Art Deck." Founding member and sculptor Les Scruggs, who shows his work at his Art Deck studio on Miller Road has created and massed a unique collection of fine art and has installed it throughout the forest within the grounds of Camp Tosebo.
Explore Onekama, Shop at MacBeth: Explore the small community of Onekama, the area's "Two Lake Town."   Shop at MacBeth and Company, a wonderful boutique store that offers many made-in-Michigan goods and unique decor for your cottage or home.
Continue to Portage Point & the Artesian Well: Known as the sister resort to the Grand Hotel on Mackinac Island, Portage Point Inn has been a destination for families since the turn of the 20th Century. Explore Portage Lake and Lake Michigan from this beautiful spot. Also check out the Artesian well along Portage Point Drive on your way to the Inn, or back towards M-22. It is about .25 miles down the road on the south side from the intersection of M-22 and Portage Point Drive. It contains some of the freshest spring-fed water you will find in Michigan.
Pierport Markets: As you continue north along M-22, you will come across a whole host of farm markets and fruit stands during the fall season. Pick your giant pumpkins and take them home for carving. You will also find many seasonal vegetables available that were grown by 4th and 5th generation farming families in Manistee County.
Arcadia Bluffs Golf Club: This is one of the top 10 public golf courses in the Country. It welcomes golfers from across the globe to play its greens every year. The Lodge contains a wonderful restaurant, and bar area with spectacular views across the rolling manicured fairways, eventually dropping off into the rolling waves of Lake Michigan. Many who have gazed out from the deck have said that this view is one that defines "Pure Michigan."
The Arcadia Overlook: We mentioned that the view from Arcadia Bluffs is one of the views that defines "Pure Michigan," well, this is another one of those cases. You will see the parking lot packed during the fall as people climb up the 120 steps to the top of the scenic overlook. You will see clearly down to Onekama and Manistee in the distance. The rolling hills and tapestry of color is sure to make it into the famliy photo album, or at the very least, a check-in and cover photo update on Facebook!
Old Baldy & The Arcadia Dunes: This will take about 2 hours to hike out and back, but if you are up to it, the dunes are beautiful during the fall season. The trails leading up to the overlook are spectacular and the color is sure to impress. The cherry on top, is the panoramic view of Lake Michigan. You will feel like you are at Sleeping Bear Dunes but with a fraction of the people. The St. Pierre Trailhead (across the road) is also a great hike or fall mountain bike ride.
Joyfield Road and Gravity Hill: Visit the special section of Putney Rd. known as Gravity Hill and try to answer the age-old question, "If the car is in neutral, why does it seem to be rolling up a hill?" Some call it an optical illusion, others call it a mystical anomaly. Try it on a skateboard or bike too.   Putney Rd. crosses Joyfield Rd. between US-31 and M-22. Travel south from Joyfield Rd. and stop at a point 150 to 200 ft. beyond the "Stop Ahead" sign on the east side of the road, then put your car in neutral. You will roll all the way back up the hill to the Blaine Christian Church. And take time to enjoy the view of rolling hills, orchards and farms along the way.
Wee Bee Jammin' and Serendipity: As you turn back for Manistee along US-31, you will drive through the heart of Bear Lake. Just before you arrive in the immediate area of Bear Lake, you will come across Wee Bee Jammin' (11)   This is a great Made in Michigan Artisan store, featuring their own Jams and Honey along with many other great products. As you continue into Bear Lake, you will come across Serendipity, (12) home of fine home goods and artisan creations from across the area.
Northern Natural Cider House features 14 flavors of premium hard cider plus 13 wines including Chardonnay, Riesling and Dry Riesling. Growlers and iced hard apple cider are fan faves as well, for the visitors to the roomy, comfortable tasting room.
Bear Creek and Rainbow Bend Explore the Shores Sites: Close together along River Road, these two Explore the Shores sites are perfect for anyone looking to learn more about the fisheries and wildlife of the Big Manistee River basin.
Douglas Valley Winery & Market: This is a MUST stop location during the fall months. Douglas Valley hosts Fall Harvest Days during the fall color season, featuring live music, wine tasting, apple picking, games for kids, and of course a hay ride that the entire family will enjoy. Throughout the season, they also feature live music on the porch. Check their website and facebook page for details. See their Feature Spotlight on the prior page.
Scenic Fall Color Tour Flight: End the day skimming across the fall-kissed trees on your way out to Lake Michigan with a fall color flight. Take off from the Manistee Blacker Airport and turn west towards the lake for an unforgettable journey. Starting at only $30 per person, this is an amazing sightseeing flight that is perfect for people of all ages. Call ahead and reserve your spot, as weekends can be busy during the fall color season.
More Manistee County Self-Guided Tours