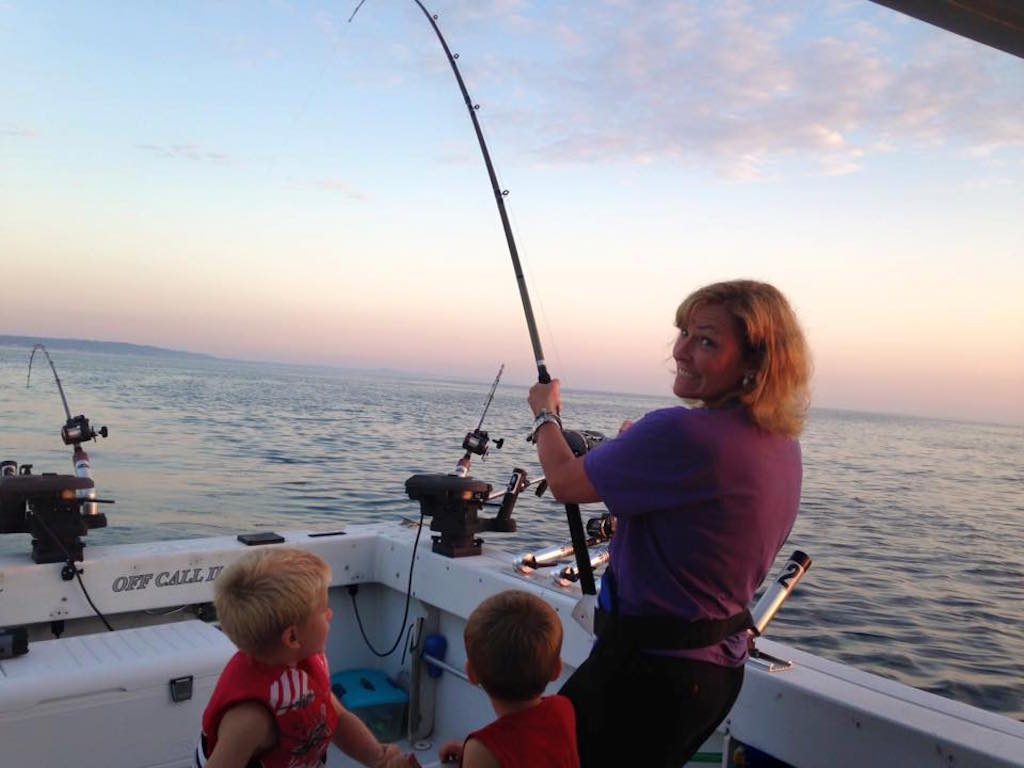 Salmon fever erupted in Lake Michigan in the late 1960's. Actually, erupted is an understatement: How about EXPLODED! For many years prior, Lake Michigan fishing was mostly fishing… not so much catching. The lamprey had devastated the lake trout. There were no salmon and the alewife had totally taken over. As the life cycle of the alewife ended, tons, and I mean TONS (metrically speaking) , of dead alewives literally covered the beaches in Chicago and basically the entire shore of Lake Michigan. They would rot and smell making the beautiful Lake Michigan's beautiful sandy beaches uninhabitable for any kind of beach recreation.
When salmon was introduced in the early 60's, no one really thought much about it. Dr. Howard Tanner, who is credited with the introduction of the salmon, thought they could provide a fishery and at the same time neutralize the huge forage base that had become a serious hazard to the recreational economy of Lake Michigan beaches. (At that time, the dead alewives were so thick on the beaches front loaders were brought in to clean them up.

Who could know the introduction of pacific coast Salmon would create the most incredible fishing frenzy that you could not even begin to imagine in Lake Michigan. The coho (silver) salmon would mature after three years and return to their original planting river to reproduce and then die. The chinook (king) salmon would take four to five years to mature.
One of the original plants for coho salmon was the Platte River, near Honor, Michigan, and to this day at Honor, the Honor Coho Festival celebrates the return of these incredible fish every year.
I can imagine the surprise as the first mature coho salmon was caught. Most fishermen at that time were unaware of the salmon run that was on the way. Word travels fast, however, and as each day passed the excitement built to create an unbelievable fishing frenzy.
The Platte River flows into Lake Michigan at Platte Bay. In the late 60's, this tiny inlet, always choked with sand, would allow small boats "with determination" access to Platte Bay. I remember jumping into the Platte River each time we launched to guide our boat through the very narrow channel into the Bay. Generally, the water was knee-high or lower allowing the passage of only one boat at a time.

As word spread about the abundance of 15-20 pound-plus cohos, boats would begin to launch as early as 3:00 am. By mid-morning, there would be hundreds of boats in Platte Bay. Some estimates went as high as 3,000 fishing on a given day. In September 1968, a sudden storm bore down on Platte Bay with very high winds creating four to eight foot waves.  At that time, most of the boats were only 12-16' with very little big lake experience. Remember, boats could launch only one at a time and coming back was even more difficult. The wind continued to increase and boats seeking shelter no longer able to wait in line to return up the Platte River would as a last resort try to beach their boats. With four to eight foot waves, slamming the beach, boats would swamp in the surf, spilling their crew and contents into Lake Michigan. Unfortunately eight fishermen died that September day and it is still remembered as the worst fishing disaster in Platte Bay.
Forty years later, salmon fishing continues in Lake Michigan. Sure there were ups and downs as the Department of Natural Resources (DNR) and nature got involved. Did the salmon or nature itself deplete the alewife population in the early 80's?
Because the forage base had been depleted, bacterial kidney disease (BKD), a stress related disease caused by lack of food began to affect the salmon. That problem continued for several years in the 80's resulting in a seven-year decline in number of salmon caught. Would we ever get our salmon back?
Nature plays the most important role in whatever happens in Lake Michigan. The DNR works very hard to predict and determine what will happen to our fisheries, however, their valiant efforts are minuscule compared to what nature can and will accomplish.
In 2011, the good news is… the salmon are back!! After a slow start (weather related), salmon were caught in large numbers and the alewife population, for some reason, was huge. This increase in forage resulted in 20 lb. – plus salmon being caught daily.  The forecast for 2012 is even better. (One forecaster predicts the possibility of a 40 lb. salmon.)
Anyone can catch salmon or trout in Lake Michigan. Manistee is the center of this incredible fishery and if you have a boat or just want to fish offshore, the chance to catch a trophy Salmon or Trout is extremely good here The Big and Little Manistee Rivers are also here along with many inland lakes teeming with walleye, pike, bass, pan fish. Charter boats in Manistee are equipped and ready to take you on Lake Michigan for salmon and trout guaranteed to be one of the most exciting adventures of your life.
LOCAL RESOURCES
Find great lodging in Manistee County on your fishing vacation.