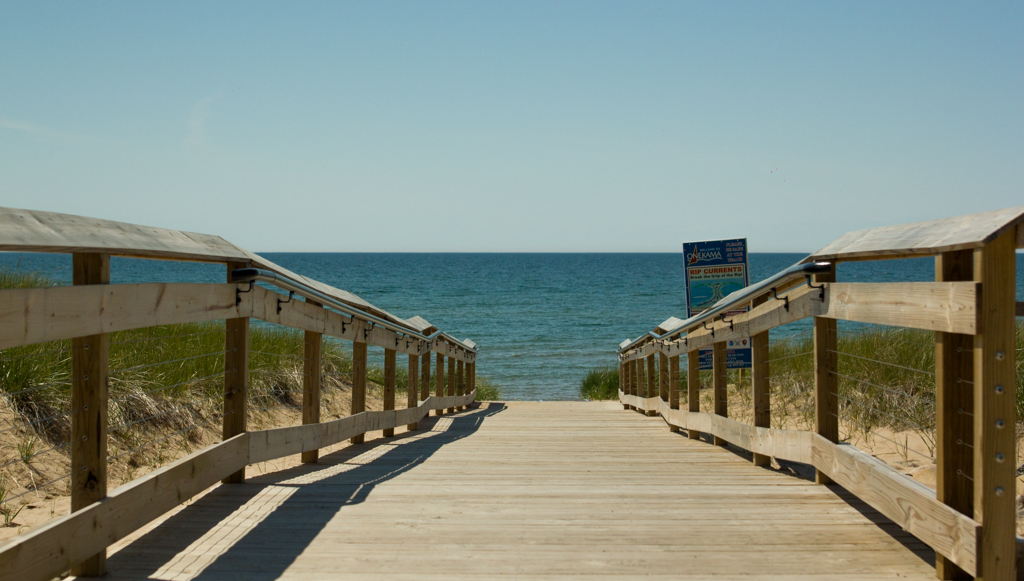 Lake Michigan at the Portage Lake outlet, Onekama, MI : Photo Credit: Al Taylor
Boaters who travel the Great Lake Michigan to visit Manistee County know to keep their charts and GPS handy. There are no skyscrapers or tall bridges to eyeball on this section of the Michigan mitten. For 25 miles bright sugar-sand beaches blend into pale green grasses and vegetation protecting the dunes that rise and dip and rise again. An abundance of maple, oak, birch, pine and fir trees line the tops of the dunes creating a canopy that shades a smattering of cabins, cottages, luxury homes and two golf courses. Only when just a few miles from shore does the boater see the pierhead lights announcing our three harbors and their communities: the City of Manistee to the south; Portage Lake and Onekama in the center and Arcadia to the north.
The Manistee County shoreline beckons year-round. Weather permitting, fishing boats chase salmon, steelhead and trout, pike, perch or walleye and fisher-men and -women and kids fish from the piers and beaches. Sailboats heel in stiff breezes.
Our waters along the shore are warmed by prevailing southwest winds, and colorful beach umbrellas pop up early, announcing that summer has begun. People play on the sand, in the surf or simply soak up the sun, and beach glass, fossils, stones and shells beckon to the curious who can scour the shoreline for miles.
Those who find themselves with a cloudy, windy day tug on a wetsuit and head out on paddleboards, wind surf, kite board, or join those on the shore who come to watch. And with 60 miles of Lake Michigan separating Wisconsin from the shoreline, there's no better place to witness the end of the day watching the setting sun.   You're bound to see a sky so rich in color that red violet hues reflect upon wispy clouds above and seagulls at rest on golden shores.
Calm waters absorb the reflections from a blue-green sky rivaling the aquas of the Caribbean Sea, as bright colors gradually fade into the soft blues of a long twilight.
Probably the last thought in the mind of a visitor is that thousands of years ago, million-year-old glaciers covering the Great Lakes Basin began to recede, creating the complex combination of wind, water and vegetation comprising the beaches and fragile dune systems. The largest concentration of freshwater sand dunes in the world is located along the shores of Lake Michigan. And these fragile systems are on the minds of government and non-profit leaders, business and community members in Manistee County as they work together for two purposes.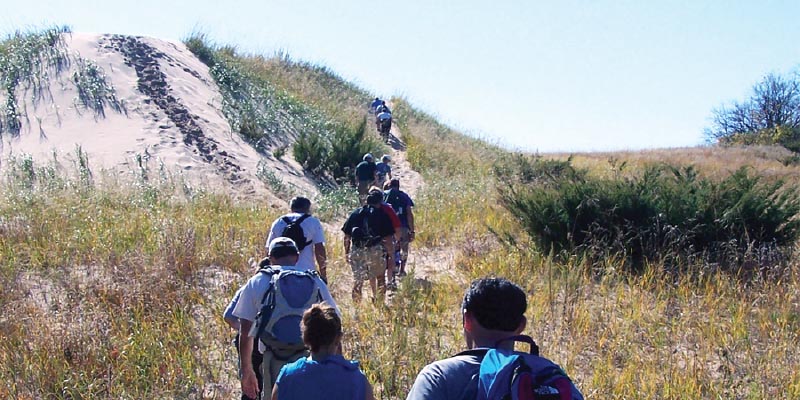 The first is to honor and preserve the pristine shoreline and in some communities allow for natural dune progression. The other is to create access for all -where possible- to one of Earth's most unique natural resources. These objectives are being made possible by fundraising and grants from a variety of sources, with universal access a specific goal of our county-wide Explore the Shores program. This way, for generations to come the lakes, beaches, rivers and marshes can be viewed and enjoyed by those in wheelchairs or with limited mobility, and families with children in strollers.
Sun, sand and water-the universal vacation fantasy, and we have it in abundance. There are no fees to enjoy our beaches and we have ample parking. Whether you prefer beach-going in solitude, as part of a crowd, or somewhere in between, we have the spot for you. Here are a few recommendations on some of our Lake Michigan beaches, and which are universally accessible.
For decades, The City of Manistee has been upgrading its two miles of Lake Michigan beachfront municipal parks, and more are still to come. Totaling over 130 acres, the parks straddle the north and south shores of the Manistee River Channel. They are served by open, accessible comfort station/concession stands and barrier free walkways providing universal access to the water.
They are marked most notably by the North Pierhead Light, black iron catwalk and the 14,000 sq. ft. red brick U.S. Coast Guard Station on the north side of the channel at 5th Avenue Beach Park. Tennis courts and children's playgrounds are part of the 79-acres that follows 1.5 miles of Lake Michigan beachfront.   Man-Made Lake is an extension of city property north of Fifth Avenue Beach which provides a more protected beach and swim area. Universal access to the Man-Made Lake beach areas is provided by a plank walkway leading from the parking lot through the trees to the beach.
North Beach Access at the north end of Dunes Drive marks the north end of 5th Avenue Beach. Universal access is not available to the water here, but access is provided to an overlook landing.
On the south side of the river, Douglas Park-First Street Beach provides two piers for walking and fishing. The public boat launch has universal access to four of the eight docks and a new accessible fish cleaning station with rest rooms. The park also includes softball fields, tennis and basketball courts, a beach volleyball area, picnic areas and a gazebo that hosts free jazz concerts every Tuesday evening in summer months.
This park hosts Manistee's 4th of July Forest Festival and is the site of Fireworks over Lake Michigan.   Our popular 1.75 mile Riverwalk begins at First Street Beach and is also universally accessible as it follows the Manistee River Channel east through the historic business district, past the Municipal Marina to Manistee Lake.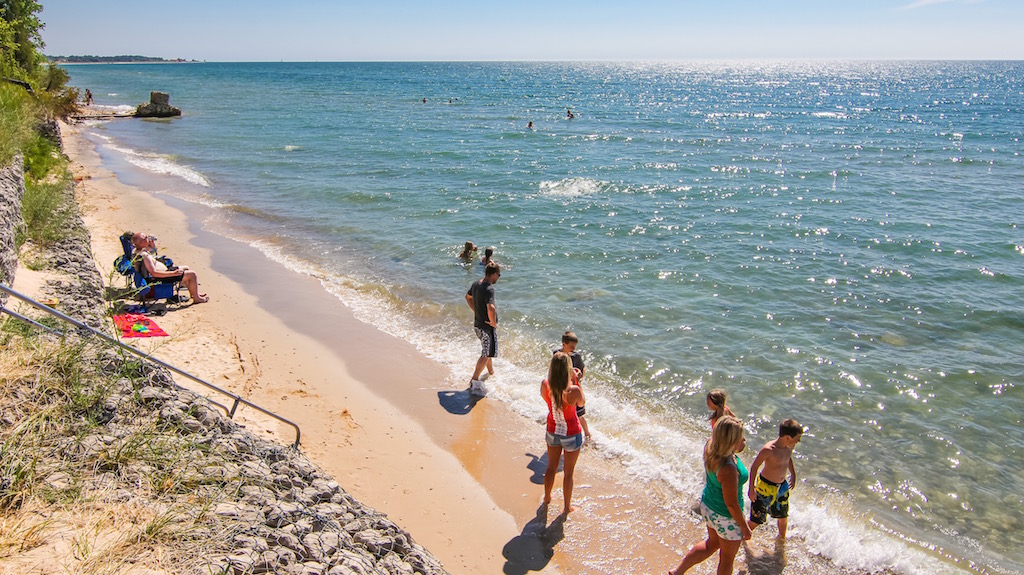 Hopefully you'll have the opportunity to witness a 600 foot-long Great Lakes Freighter making its way into this deep water port on its way to the industry located on Manistee Lake. It's a sight you won't soon forget.
Sunset Station. The name given to Arcadia Beach years ago rolls quickly off the tongue and the visual is immediate. But the visions of perfect sunsets and joyful days of activity in the water and on the shore belie the decades of vision, planning, volunteer efforts and the patience required for this successful collaboration.

The History of the Area
As Manistee County's lumber era came to an end in the early 1900s, the Starke Land and Lumber Company deeded the beach north of the river channel to a private camp. Successive changes over time under the guidance of community members and township committees, continued its preservation. Then in 1999, the Grand Traverse Regional Land Conservancy (GTRLC) assisted Arcadia Township in the purchase and protection of 1,369 feet of Lake Michigan beach frontage and 10 acres of adjacent woods and duneland.
Fast-forward to present day and GTRLC has again partnered with Arcadia Township, Explore the Shores, Manistee Community Foundation and others to fundraise for site improvements to the beach park area. The improvements will enhance the playground area, add restrooms and improve access and viewing areas that will provide universal access, with implementation expected in 2014. The beach is also dotted with notable shipwrecks.
Beyond the beach, government and community members and their partners have engineered an ambitious, long-range plan to create a network of recreational opportunities that will provide access for people of all needs and abilities. In addition to encompassing the Lake Michigan shoreline and dunes, non-motorized pathways will access recreation and businesses and multi-use trail systems to public lands for recreation.
The area around Veterans Memorial Marina, well-known by boaters for stargazing opportunities and Grebe Park are slated to receive a universally accessible canoe/kayak launch, fish cleaning station, permanent concrete vault bathroom facilities and other amenities. An Explore the Shores universally accessible path will take visitors to coastal views at the GTRLC Arcadia Dunes: The C.S. Mott Nature Preserve, some 350-feet high with panoramic views of Lake Michigan. It will be one of the first trails incorporating universal design within a Great Lakes dune complex.
Also, talks are underway to provide universal access to GTRLC's 155-acre Arcadia Marsh Nature Preserve, one of only 15 or so remaining Great Lakes Coastal Marshes. Visitors of all ages, needs and abilities will be able to birdwatch, fish, explore and learn about the Marsh. A portion of Pleasant Valley Community Center will be converted into an unmanned welcome station serving Arcadia and the system of Arcadia Explore the Shores locations providing maps and information.
This secluded, intimate beach is located at the end of 13 Mile Road. Visit Old Facefull, an artesian well a few hundred feet from the beach.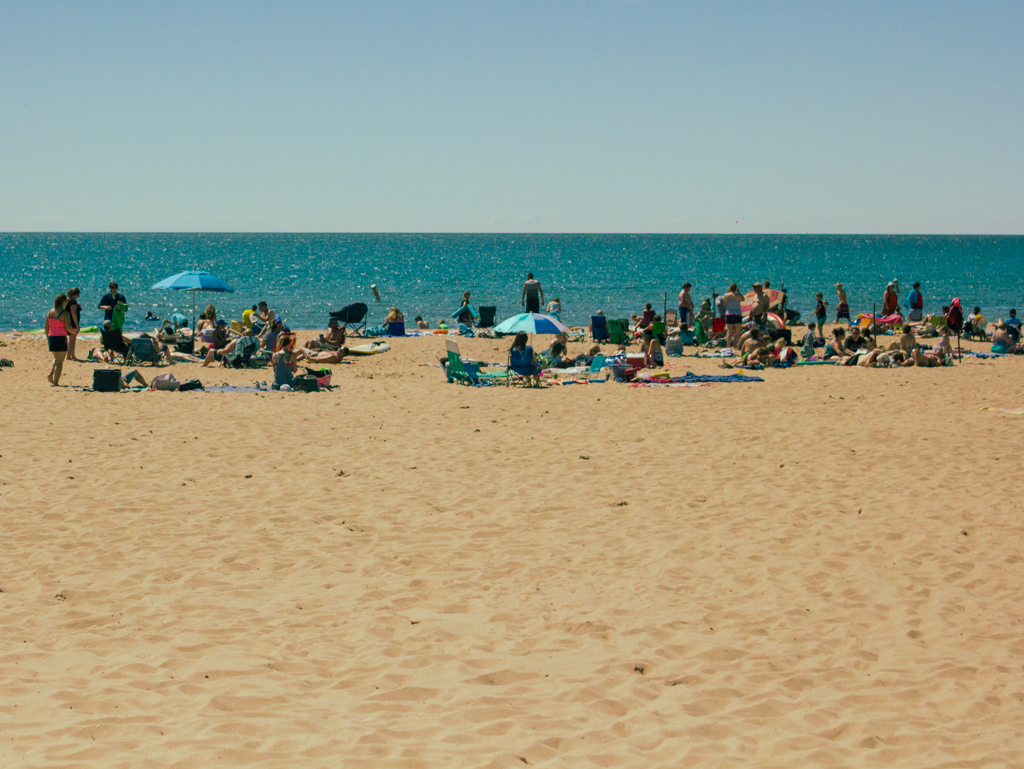 Explore the Beaches of the Area
Portage Point beach in Onekama, lies just past the historic Portage Point Inn on Portage Point Road off M-22. If you drive up from south of Onekama you'll find the drive around Portage Lake and through town can be a lazy ride, and that's a good thing. There are a lot of distractions: the beauty of Portage Lake with its sailboats moored near the shore; shops, parks and restaurants; and charming architecture from this long-time resort haven. At Portage Point beach there are two gazebos for rest and shelter, plus access to the north pier for walking and fishing.
Orchard Beach State Park is situated on a bluff overlooking Lake Michigan. A stairway leads from the campground to the beach and self-guided hiking trails are adjacent to the park. There are 166 camp sites available at the park.
The narrow strip of beach north of Orchard Beach State Park has a barrier free ramp for access to Lake Michigan.
Magoon Creek flows into Lake Michigan south of the City of Manistee. It's at the southern end of 2,300 feet of shoreline that is part of the Magoon Creek Natural Area accessible from Red Apple Road. The creek is small and seemingly unassuming as it flows from the 97-acre park across the wide sandy beach into Lake Michigan.
But for decades it has played a big part in the imaginations of children, teens and adults. It's narrow and the cool water is slow-moving, so it's a target of great feats of engineering as long, lazy afternoons are spent attempting (often successfully) to change its direction with dams, and creating elaborate sand-castle communities to line its banks.   The natural area adjacent to the beach has sandy access paths perfect for hiking. It is home to deer and turkey which make their home among the wide variety of trees and shrubs in the rolling hills, valleys and dunes.