The scenic M22 route following the Lake Michigan shoreline from Manistee north through the Leelanau Peninsula is one of the most beautiful drives in any season of the year, winter is no exception. Your route begins at US31 & M22 at the Little River Casino Resort. From there, head north and follow the winding roadway through many quaint towns, leading you to breath-taking views. The perfect way to spend a winter day!
Your tour of the M22 scenic route begins in Manistee at the popular gaming destination, Little River Casino & Resort.  Warm up with the hottest slot machines and table games or catch the game surrounded by 60 TV screens, River Rock featuring Sportsbook allowing you to take your game watching to the next level.  Sports betting will change the way you watch a sporting event, allowing you to bet on professional and collegiate sporting events and even allow you to bet on every play.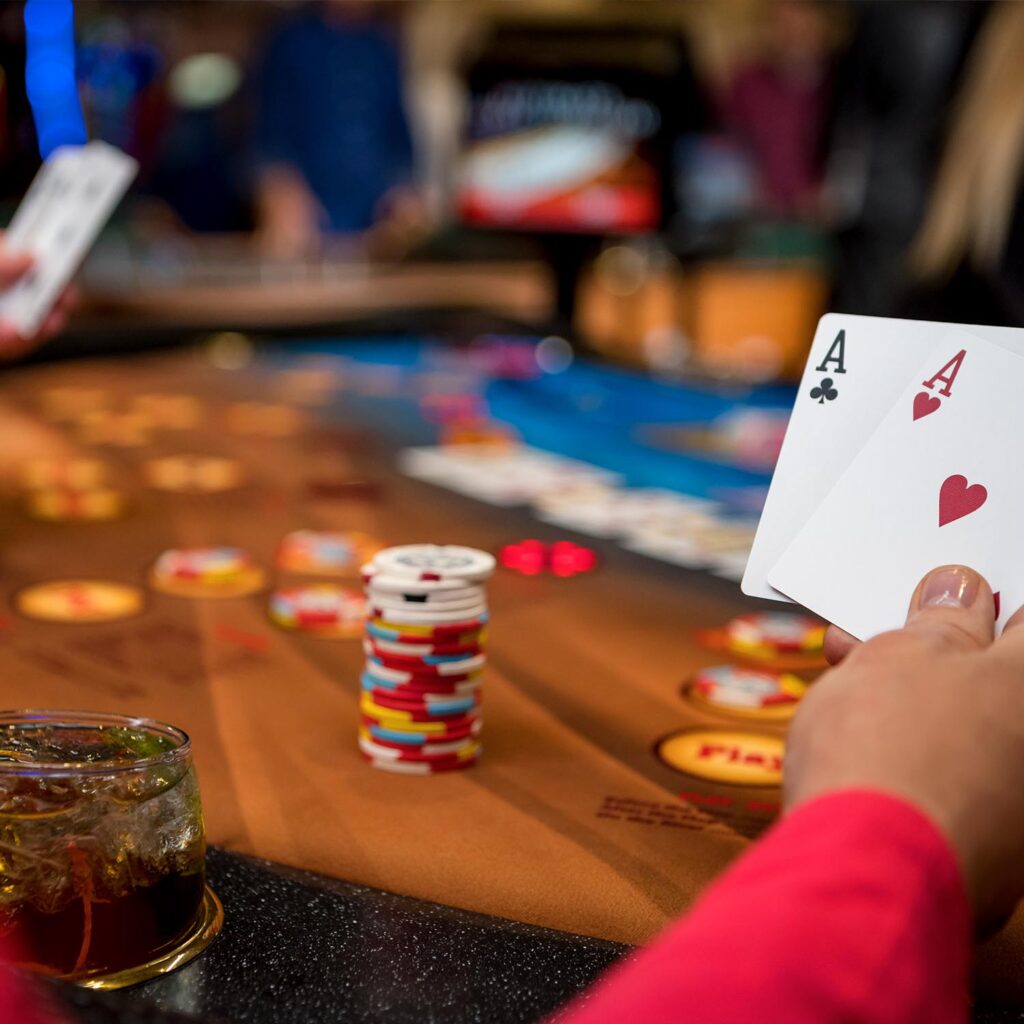 Stop for Provisions on Portage Lake
As you wind north up the M22 scenic route, you will find your way through the village of Onekama. Home to Portage Lake, Onekama's winter landscape is centered around a pop-up city of makeshift shanties across the frozen surface of the lake. Perhaps you might enjoy a hand-poured cocktail at The Blue Slipper, or if you are hungry for breakfast or maybe lunch, the M22 Grill is a local favorite to grab a bite. Feeling just a little snackish? EZ Market is your spot to stock up on road snacks while you gas up for your journey.
For stunning views of Lake Michigan dressed in its winter best, Arcadia offers lakeshore access as well as incomparable views high above the water's edge.  Arcadia Beach Natural Area provides access to Lake Michigan where the beach encrusted in ice along the shoreline mimics the tundra of an uninhabited planet.  (As you explore the shoreline of the big lake, be sure to be cautious of unstable ice shelves over the water, ice over water can give away without notice.) Just a few more miles north is the Arcadia Scenic Overlook where you can view the same snow-covered shoreline from 370' above the lakeshore for expansive views of the coastal winter landscape.
When the winter temperatures drop below freezing, Stormcloud Brewing Company in Frankfort transforms their outdoor space into a sheet of ice to welcome the sport of curling.  Offering both lessons and league play, winter enthusiasts can either participate in this unique sport or share in cheering on the league while enjoying great local brews.
Don't miss a stop at the Point Betsie Lighthouse which is a popular winter picture spot to capture the sunlight glistening off the icicles that form across the landscape of this historic lakeshore landmark.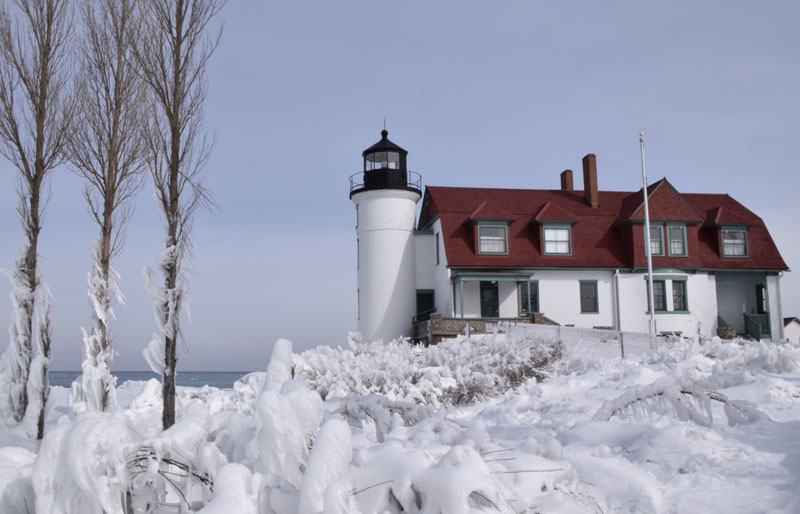 In the summer season, Sleeping Bear Dunes National Lakeshore is one of our region's most popular family destination, attracting visitors from around the world, but did you know it is also open in the winter?  A blanket of fresh snow transforms the Dune Climb into a giant sledding hill for an exciting day of family fun.  And although the Pierce Stocking Scenic Drive is closed to motor vehicles in the winter months, it is open to snowshoers and xc skiers providing miles of winter trail exploration. This makes Sleeping Bear the perfect destination for a day trip during your winter stay in Manistee County.
Sutton's Bay
A bit further north on M22, you will come upon the charming town of Sutton's Bay, home to many local shops and restaurants and the popular Hop Lot Brewing Company.  Their unique family-friendly, outdoor beer garden features a host of campfires and igloos to keep you warm while sipping a selection of Hop Lot brews and enjoying a bite to eat.  Campfire roasted s'mores are a popular addition to the menu!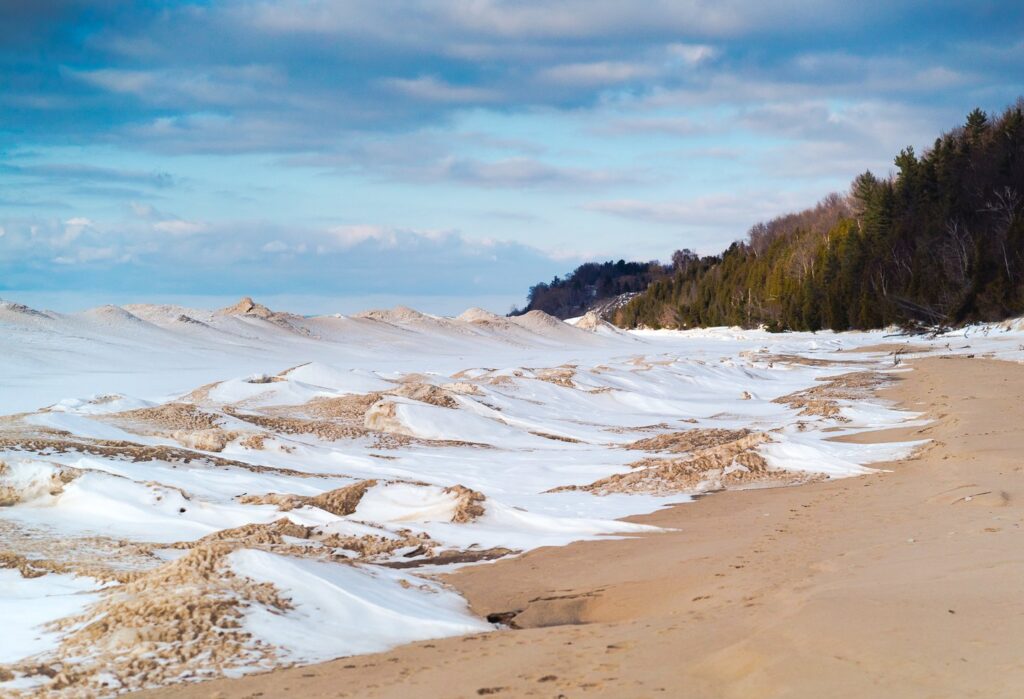 Leland
Heading further north into the Leelanau Peninsula, M22 guides you along a shoreline of winding roads, passing beautiful rolling scenery, leading to some of Michigan's most treasured wineries.  Even in the coldest winter months, these wineries welcome you to experience the flavors of our region while cozied up next to a fire amongst the snow-covered vineyards, some even offering tours on snowshoes or xc skis.  The Leelanau Peninsula is home to more than 25 wineries, most of which are open year-round, some only on weekends
Traverse City
As you turn south to head back to Manistee, your route passes through Traverse City, a well-known Up North travel destination rich with modern amenities and still small enough to exude hometown charm. Maybe grab a bite at a local eatery on Front Street or stroll the shops for a memento of your tour.