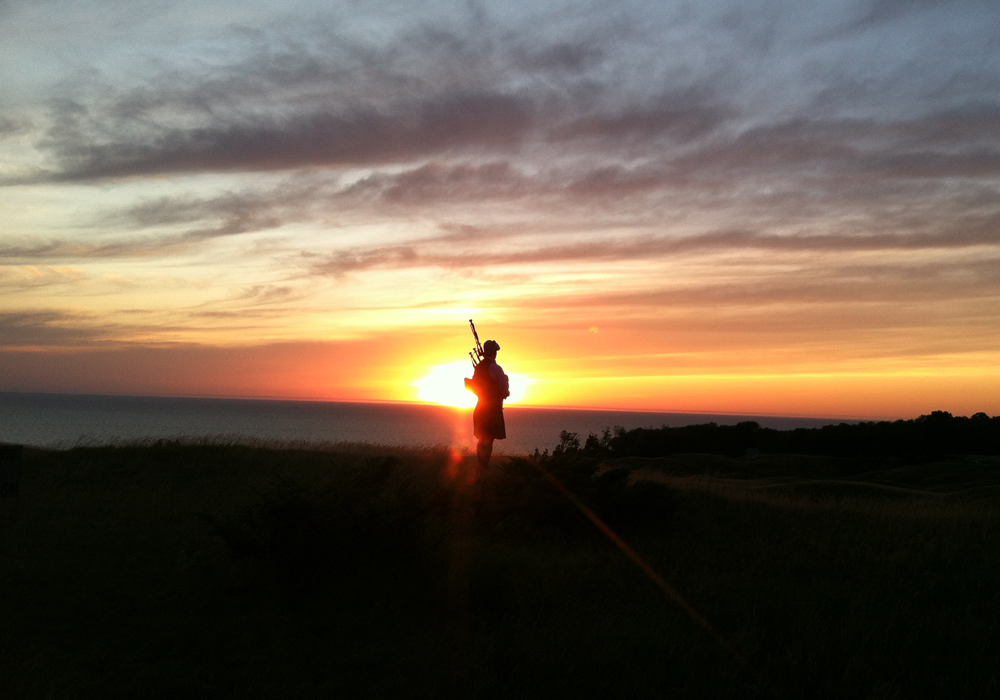 Picture this. You're relaxing with friends on the patio at Arcadia Bluffs Lodge, enjoying the warm sunlight softened by the pastel hues that signal the sunset to come. As you gaze westward toward Lake Michigan, you spot the Scottish bagpiper in full regalia, and listen as he begins to play a stirring, hauntingly beautiful rendition of "Amazing Grace."
Stephen MacNeil is one of only three professional class "pipers" in Michigan and a Manistee County treasure. Inspired by his grandfather and great-grandfather who were pipers, MacNeil has been playing for about 35 years.
His son, Roddy, also a piper and on a Scottish Arts Scholarship at Alma College, frequently plays at Arcadia Bluffs as well. For the last three years Roddy has also performed at sunrise on the bow of the Manistee Coast Guard Life Boat for the Tight Lines for Troops Fishing Tournament. Last year he was joined by his father and cousin, 11-year-old-Calum MacNeil who is following in his uncle's and cousin's footsteps.
At Arcadia Bluffs, Stephen MacNeil offers his one-of-a-kind greeting to twilight an hour before sunset on Friday, Saturday and Sunday evenings from June through September, weather permitting. But don't plan to hurry off after the sun sets. The magical colors of twilight will last for quite awhile, just like the memory of the MacNeil clan's "Amazing Grace."