---
If getting out into the fresh air and wide open spaces sounds appealing to you, you are not alone. With all that is going on in the world right now, it is a perfect opportunity to get out, stretch you legs, and enjoy some scenic fall color from our trails.  Here we will outline the TOP 6 #MyManistee "Fall Color Trails" for 2020.  The best part, we will also give you some inside tips on when to expect color to peak on these trails. In fact, we have listed them in order from peaking first to last to peak.
You can also track our LIVE fall color updates from around the entire area here.
---
First to Peak – Big-M Recreation Area
IDEAL FOR: Mountain and Fat Tire Bikers
Simply put, Big-M is spectacular.  It is one of the best places to get out and ride in the Lower Peninsula. The trail system consists of nearly 40 miles of single track.  All experience levels are more than welcome at Big-M, and you will find plenty of riding to keep you busy for an entire day if you want. Our complete ride map will guide you through the entire area so you can ride with confidence.  An extra tip – if you are one of the more experienced riders or someone looking for a challenge, the 25 mile outer loop is sure to be an area you will want to explore.
Why Big-M Peaks First: Being further inland and at a higher elevation, this area of Manistee County usually sees color before others.  The diverse hardwood species also provide quite the canopy of fall color!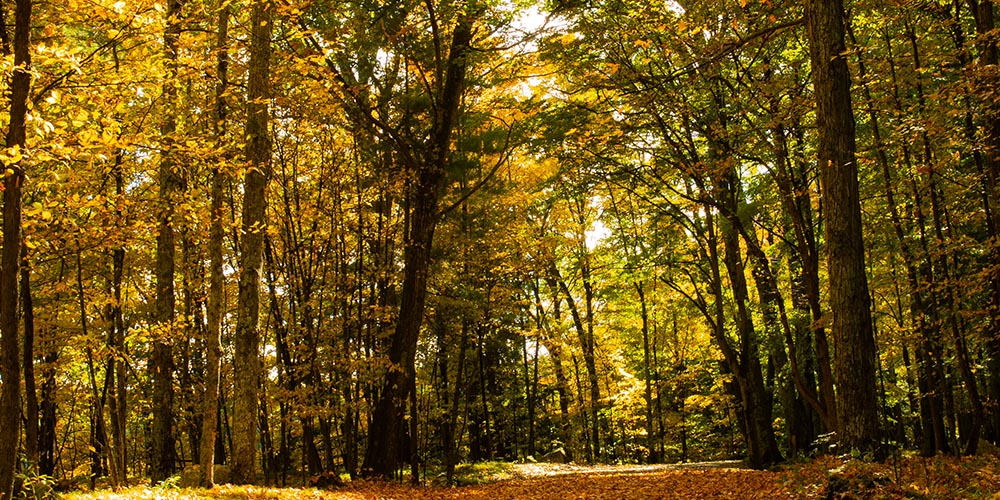 Close Second – Manistee River Trail
IDEAL FOR: Out-and-Back Hikers or Multi-Night Adventure Seekers
You are not going to find a better multi-night fall color trail in the Lower Peninsula (in our opinion :)) – The Manistee River Trail (especially when combined with the North Country Trail) provides an incredible multi-day hike. This trail is perfect for hiking enthusiasts who have some experience since the terrain can be challenging in some spots.  One of the best overlook spots is at the end of Slagle Creek Road – you will need a four-wheel drive SUV or truck to get there, but the views are really worth it!
Why Manistee River Trail Peaks Next: Typically Big-M and the MRT peak around the same time. It can all depend on rain and wind.  The views from the MRT are great as you can see the Udell Hills to the west, and the setting sun provides some spectacular photo opportunities.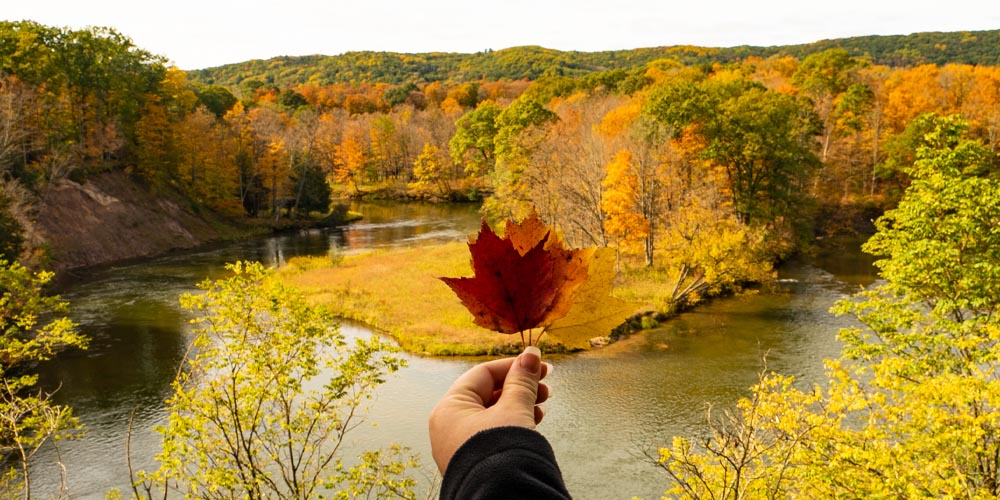 The Marsh in Arcadia
IDEAL FOR: Birders and people looking for a casual stroll
The Arcadia Marsh is perfect for birding enthusiasts (during any season for that matter). Fall is gorgeous on the marsh trail. This 1.5-mile out-and-back is perfect for just a quick trip with the family who wants some fresh air. The marsh provides informational signage along the entire stretch. More than 150 bird species call the Marsh Area home. This trail is also universally accessible for people of all ages!  The Old Baldy Trail within the Arcadia Dunes is also a universally accessible trail.
When the Marsh Turns: This can be challenging to find an exact time. It can all depend on rainfall and the water levels. With high water, and if we get some heavier rains and low overnight temps, the marsh could be the first to turn out of any of our top 6. It's hard to say – we recommend you follow our LIVE color updates to get more insider tips!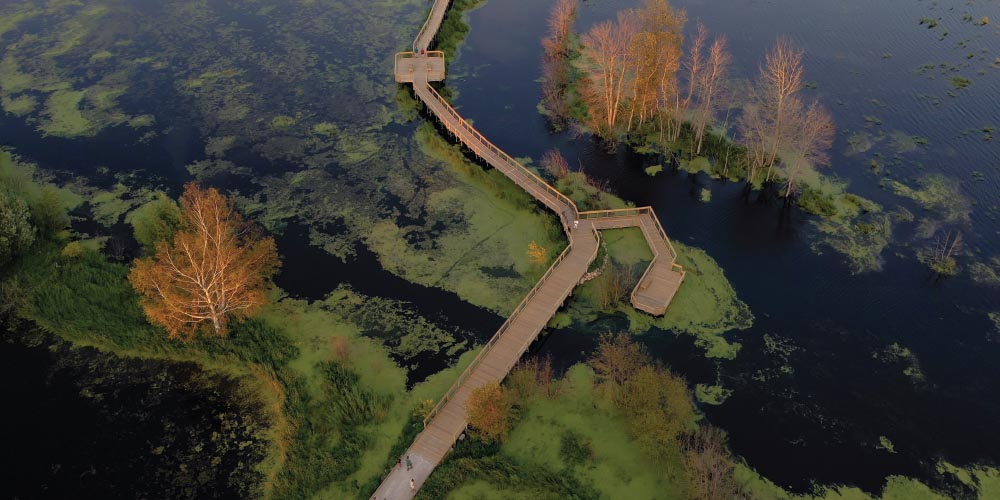 The Arcadia Overlook & Arcadia Dunes
IDEAL FOR: Anyone and Everyone! – especially those with accessibility requirements
The Arcadia Overlook and the Arcadia Dunes area is a perfect 1-2 punch of fall color and Lake Michigan overlooks.  Bother offer handicap accessible access (Arcadia Dunes – Old Baldy Trail will take you right to the Lake Michigan observation platform). The views from high atop this location is wonderful, and provide great photo opportunities for anyone looking to capture a new smartphone background for the next month or so.
When the Overlook and Dunes Turn: Because of the panoramic views offered from both of these locations, you can see the early turning trees and late arrivals, so, expect a good couple weeks of fall color viewing at these overlooks.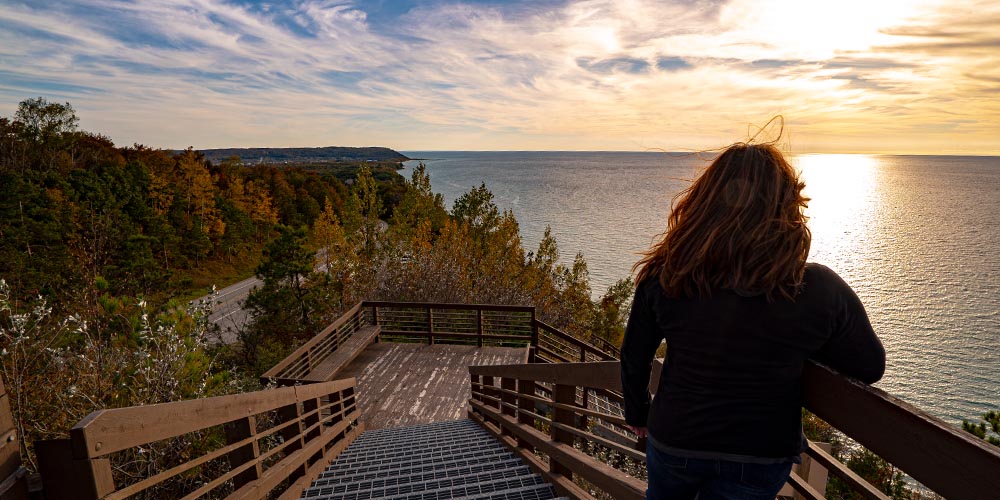 Champion Trees at Lake Bluff
IDEAL FOR: A quick 15 minute stop
This jewel on Lake Michigan's shore boasts more than 1500 feet of Lake Michigan frontage on its 76 acres in Manistee County. Originally landscaped as an arboretum, Lake Bluff Bird Sanctuary has many notable specimens that have been preserved such as; California Redwood, Ginko, and two Michigan Champion Trees, a Giant Sequoia and Sycamore. The fall color is beautiful when cast in front of and behind our local Champion Trees.
The Lake Bluff Turns: Expect the Lake Bluff area to turn with most of the other color along the coast of Lake Michigan.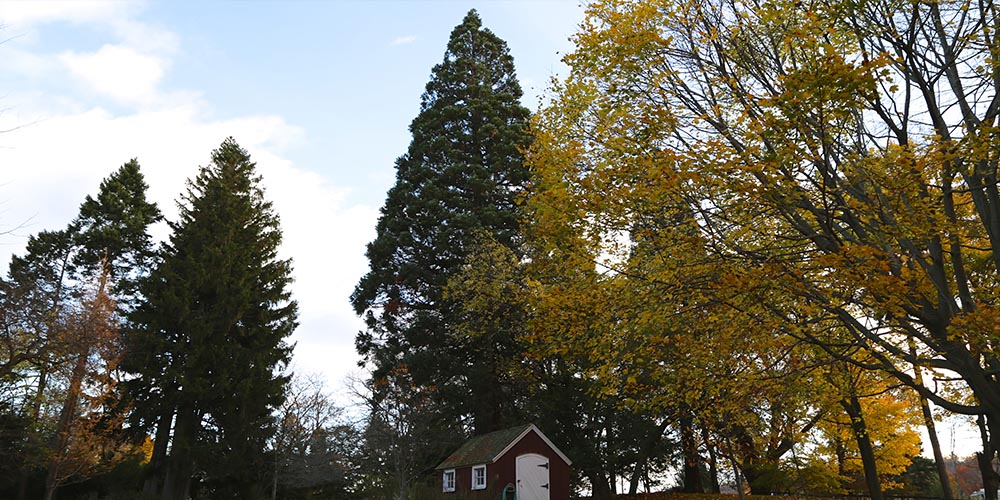 Finally: Magoon Creek
IDEAL FOR: Family Hikes (with an optional picnic)
Magoon Creek Natural Area is beautiful in the fall season. Nestled just south of Manistee right on the Lake Michigan shoreline, you will find a great accessible viewing area, picnic tables, covered pavilions, Lake Michigan access and PLENTY of fall color on their easy hiking trails.
When Magoon Creek Turns: Expect color to peak last here (compared to the rest of our list) They will be close with Lake Bluff.